Going Dutch
John Godber
Hull Truck
Gala Theatre, Durham, and touring
(2005)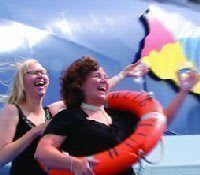 The last "new" (it was then) Godber play I saw was Screaming Blue Murder in 2004. It was, shall we say, uninspired. "Definitely not vintage Godber!" I wrote at the time. With Going Dutch, however, the man from Hull is definitely back on form, making us laugh, cringe, bristle, squirm and even feel sentimental as the story of a mismatched middle-aged foursome's trip to Amsterdam to see a Bruce Springsteen concert unfolds.
It's Mark's fiftieth birthday and the trip is a birthday treat. He and his wife Sally, almost the archetype of the vaguely artistic working-class-become-middle-class couple going through a mid-life crisis, invite along their oldest friend Gill, after whom Mark has not so secretly lusted since they were all in college together. She, however, brings her latest man: ex-con, ex-roadie, ex-pornstar but definitely not ex-psychopath, Karl.
The play's structure is interesting: we see Mark and Sally on a later trip to Amsterdam during which they tell us of the fiftieth birthday trip. As we move from the present to the past and back again, our perception of their relationship changes: as they learned then from their experiences, so do we now.
It's very subtly done, for the characters develop in both stories and the changes we see occuring in the past inform our view of the characters in the present so that, by the end, there is a genuine resolution. Godber's understanding of people and sympathy for their faults and foibles is very evident.
The author is well served by his cast of four. As Mark, Hull Truck regular James Hornsby is thoroughly convincing - I know this man: I was this man! His gradual, somewhat painful, coming to terms with what he is and what he has was just right.
Gemma Craven's Sally is an absolute delight. Her performance is never overplayed - although there were places where it could have been - and each gesture, movement, facial expression and vocal inflection was given just sufficient weight to make its impact without labouring the point. Jackie Lye as Gill and Rob Hudson as the thuggish Karl complete the quartet, providing two diffferent contrasts to the others. Their performances are well complemented by Pip Leckenby's simple set and Graham Kirk's lighting.
Definitely, Godber is back on form.
The production plays at the Gala until 14th May, then goes on to Preston, Westcliffe, Scarborough and Salford.
J.D. Atkinson reviewed this production at the Grand Opera House, York, in January.
Reviewer: Peter Lathan