Gold, Gods and Giants
Adapted via Wagner from nordic legend
Opera North
The Compass Room, The Lowry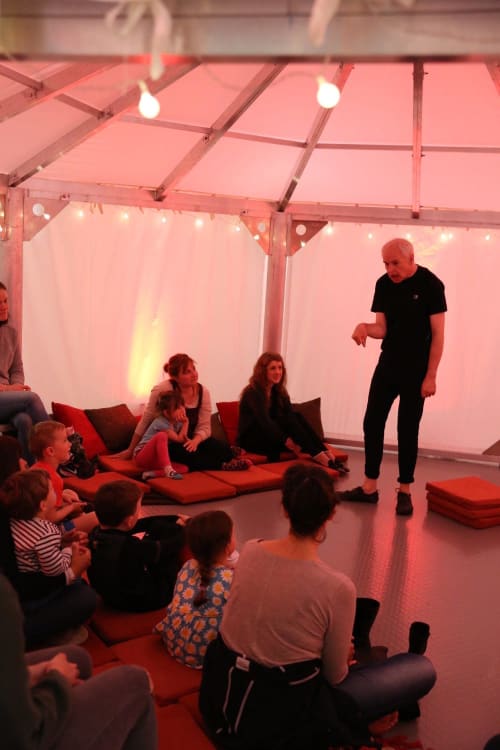 It's never easy finding the right woman (probably even harder if you've never actually seen a woman!).
When the right woman turns out to be a Valkyre, cursed into unbreaking slumber then stranded atop a mountain and encircled by an impenetrable ring of fire by her own father (who happens to be Top God) how's a guy supposed to rescue her—even if that guy is the fearless Siegfried?
Answer: get a helicopter pilot to fly you in. Simples.
Opera North's music and storytelling workshop, aimed at helping young children take their first step along the path to becoming devoted Wagnerians, proves to be genuinely interactive. We gather inside a tent, with cushions aplenty (and the odd chair for the less supple among us) as Anthony Haddon tells the story of Siegfried and Brünnhilde (in essence, a neatly edited version of the third element in Wagner's Ring Cycle).
Haddon's delivery is both gentle and engrossing, taking careful note of the mood and temperament of each child in the audience. Participation is key to the children's engagement, but is achieved by cajoling and patient encouragement. There is no need for anyone to leave his or her seat (which is not to say that is forbidden—who can fly a helicopter without getting up and at 'em?). Haddon softly poses questions to his audience and any answer, be it bold or tentative, is swiftly validated.
In addition to Haddon's vocal and physical agility, the atmosphere within the tent is made more magical by Sylvia Hallett's multi-instrumental accompaniment. Besides tonal pipe and recorder, Hallett offers accordion, Hardanger fiddle (Norwegian) and Kantele (Finnish zither).
Props are wisely minimal—a pair of red flashing safety lights (of the kind cyclists will recognise) suffice to suggest the glowing eyes of Fafner. One little girl, fearful of this dragon, is told that all the other Siegfrieds (small and tall) will protect her. This promise is reassuring enough for her to join in the communal vanquishing of the monster.
Now it is time to slash through the forest, swim the ocean, and climb the mountain—all of which Siegfried does without fear or hesitation. But how is he to pass, unharmed, through the ring of fire?
"I've got a helicopter," pipes up young Alek. And so it is that Siegfried the fearless, is piloted up above the ring of flame and set down safely, alongside the sleeping warrior. Siegfried, in his ignorance, thinks he's gazing upon another bloke, but the little girls—with commendable relish—tell him that the armour-clad figure is "a WOMAN!" Well done, you girls!
Some things, though, don't seem to vary across the generations. The girls blush and smile as Siegfried and Brünnhilde snog (played to the hilt by Hannon). The boys, just as they have since Wotan was a lad, squirm and look away.
Asked to choose between a happy ending and Gold, Gods and Giants—the Sequel, the latter option wins (although some, with the greedy optimism of youth, vote for both).
This show is suitable for any child old enough to follow and enjoy forty-five minutes of enchanting storytelling. My final word of advice—for adults and children alike—comes from young Alek:
"You never know when you might need your imagination."
All power to Haddon and Hallett. Let's hope they soon need a bigger tent.
Reviewer: Martin Thomasson