Gold!
Written and directed by Simon Stallworthy
Gala Theatre, Durham
(2008)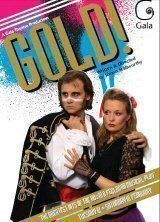 It's probably impossible for a full decade to go by without some really good pop music being produced but the eighties came closer than most. Including some of Bowie's less interesting work, the end of the New Wave and the flowering of the New Romantics, it has been described as the "decade that style forgot", which is odd because the New Romantics were far more obsessed with style than substance. But then one only has to look at the fashions....
But of course if you were a child of the eighties, that's the music that is dear to your heart, for nostalgia's sake if nothing else. And that's the appeal of Simon Stallworthy's Gold! Part-play, part-concert, it is an unashamedly feel-good piece calculated to appeal to those for whom Culture Club, Frankie Goes to Hollywood, Cyndi Lauper, The Human League and Kajagoogoo were the musical heroes of their youth.
And it does: in the concert sections of the piece, they were on their feet and dancing in the space set aside by the removal of the first few rows.
Gold! tells the story of five people who were in a band while at university (there are some - very - vague parallels with The Human League but we won't labour them) who have been brought together twenty years on by their geeky ex-roadie, who has become a millionaire, to play at his wedding. The setting is the stage in a marquee and the only people we see are the members of the band: Nick, Tom, Sharon, Gareth and Elizabeth. We see how their dreams have turned out. After their local success as a student band and the certainty that a great music career was before them, they are now, amongst other things, a Kylie tribute act, a comprehensive school music teacher and a postman.
They talk, revealing what's happened to them and their disappointments - they'd had a taste of glory but are now (more or less) resigned to ordinariness. They rediscover their relationships and renew them on a perhaps more mature level, and they play the music for the wedding guests. I didn't actually count, but I'd say that almost half of the show is the concert.
It's undemanding theatre: a piece of light entertainment with a little bit to say about our hopes and dreams, and even the happy ending - the proposal that the band should get together again - is a diminution of those hopes and dreams, for now they are little more than an eighties tribute band, not the cutting edge musicians that they dreamed of being.
If the eighties were your time, you'll probably love this: if not, it's probably too much music, too little drama.
Reviewer: Peter Lathan