GOLive
Peta Lily, Daniel Hay-Gordon, Eleanor Perry, Lydia Cottrell and Sophie Unwin
Giant Olive Theatre
Lion and Unicorn Theatre
–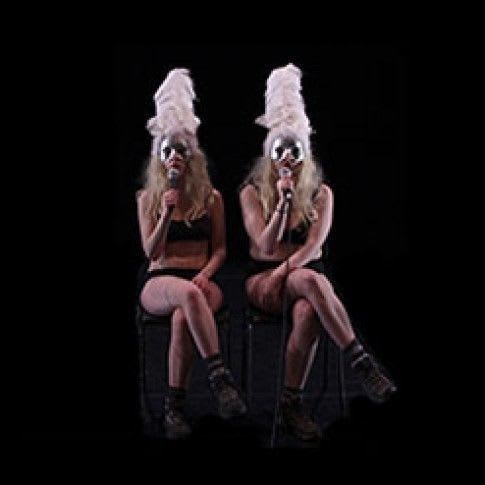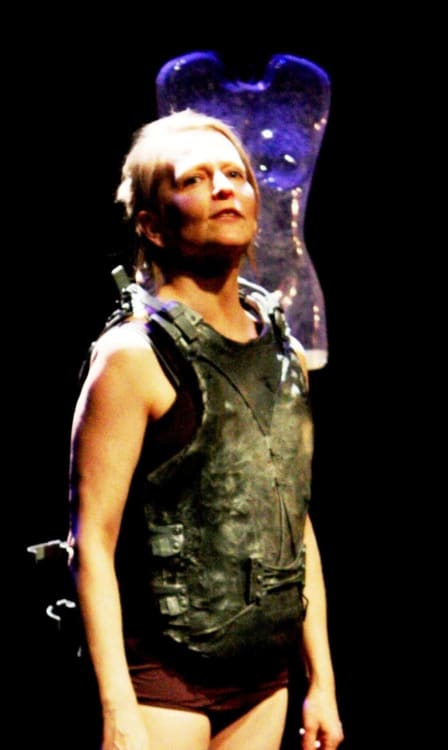 This Kentish Town theatre's now-annual dance and performance programme curated by Donald Hutera this year presents two bills with a range of special guests added to performances of Invocation on 28, 29 May and 3-6 June.
Invocation, written and performed by Peta Lily and directed by Di Sherlock, is a one-woman show that presents us with an actress who, faced with the prospect of pursuing the career and life she wants or actually earning a living, moves from theatre into the corporate world as a coach for blokes in finance and business.
Life "lacks dramaturgy" she says, but this is a carefully constructed piece that only seems to be improvised, though so beautifully balanced that I still don't know whether a lighting breakdown in the middle was intentional or not. Not, I suspect, for it interrupted the flow of random association and quotes from Shakespeare that move the script along.
Lily builds up a warm rapport with her audience. "Does anyone here have a proper job?" she asks. "Do you? Or you?" There's just one who answers, and he's a vicar, but she is addressing everyone's search to find that balance between doing a job and really living if you can't do work you really love.
She gets everyone to reach and stretch, to stand and turn to massage their neighbour but, though she has a message to get over, this isn't the kind of audience involvement to scare off the timid theatregoer. It is all as relaxed as she wants her audience to be: entertainment not indoctrination.
Lily takes us through her search to "find a life" first seeking relief from the stresses of show business by taking up meditation and losing a husband on the way. Nevertheless it provides somewhere to go for Christmas, while her audience may think her satirising its techniques led Lily to loving God—or rather lots of Hindu gods—as she spends two long hours a day seeking tranquility.
The corporate coaching which she takes up may seem to offer status and money in the bank, but can one be happy in a world of business colleagues rather than friends? As she runs a leadership training and takes participants on a workshop "Hero's Journey" (marked out with Saxa salt) to overcome its metaphorical obstacles, we see the realization grow that really this is not her world.
Lily has plenty of personality and is a fluent performer. With multiple costume changes (mainly hanging on two hanging plastic torsos) she moves through her material with ease. Whether draped in silk in a full lotus position or as a breastplate-wearing hero, she is funny and at the same time touches on life's generic problems. "You have to deal with failure," Lily says, "Try again. Fail again. Fail better!".
Thick and Tight & 70/30 Split: A Double Bill could perhaps best be described as dance cabaret. Each of the companies performs two numbers and a handful of short films is placed between them that take dance performance out of doors.
Thick and Tight opens with Edith and Schubert Have a Cup of Tea in which Eleanor Perry is eccentric poet Edith Sitwell and Daniel Hay-Gordon romantic composer Franz Schubert. They each dance solos: she dancing with exotic complexity, he in deep swirling extensions and ends up miming to Peggy Lee singing "Mr Wonderful": a woman on about the man she loves, a reference presumably to Schubert's probable sexuality.
70/30 Spilt starts its first number, Content: Part 1. Lydia Cottrell and Sophie Unwin, in fur coats and training boots, parade up and down, experimenting with a series of awkward entrances. They are looking, they tell us, for "content, meaning and substance". They don't find it but they do ask the audience to use their imagination: "to imagine something better than this." They have their own brand of zany humour and aim it effectively at intellectual pretensions.
Of the short films that follow the interval, Meadow is perhaps most interesting, the frieze-like style of is choreography owes a debt to Nijinsky's L'Apres Midi.
Thick and Tight (who have been hunched under tartan blankets waiting while their films are shown) now offers Freud & Madonna's Last Shag, a piece as hilariously tasteless as its title. Blankets removed, cross-gendered Perry in suit and beard is equipped with a huge and rampant penis while Hay-Gordon's Madonna is in black pants and bra, high heels and dark glasses. After whacking "her" awake with "his" huge protuberance they dance their inventive copulation to audience delight.
Finally comes 70/30 Split's Pas du Duh, in which Cottrell and Unwin, male-suited and with gently pencilled moustaches, show themselves to be consummate clowns. In a camp send-up of show business the highlight is an extended routine in they do unmentionable things with bunches of flowers. It is extraordinarily inventive and very funny.
Reviewer: Howard Loxton