Good Grief
Ugly Bucket Theatre
Newcastle Fringe Festival
Alphabetti Theatre, Newcastle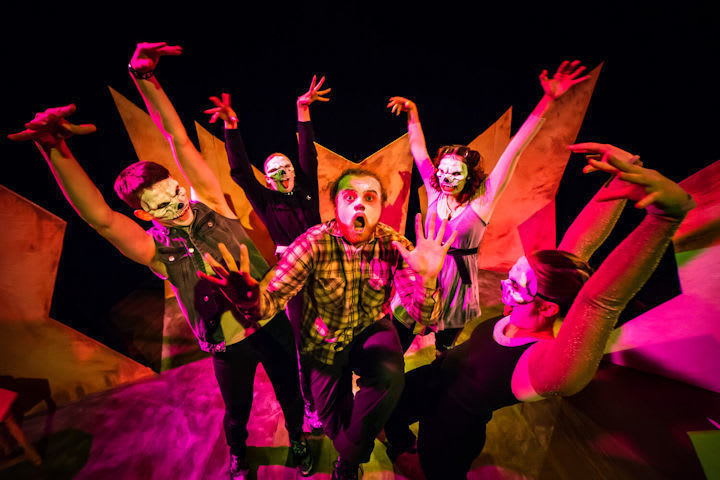 The death of a loved one, a family member, a friend: something which, inevitably, we all have to face a number of times in our lives, and we all deal with it in different ways. Our reactions have been the subject of poetry, novels and short stories, drama and film, but it is really quite a shock to find a group like Ugly Bucket, a physical comedy company which combines clowning, music and verbatim theatre, tackling the death of a friend in their usual style.
Good Grief, we are told, came about because a dying friend asked them to do a show about death, and the result is…
Well, a mixture of clowning, physical theatre, techno music and dance, slapstick and verbatim quotation from a variety of those who have come into contact with death and the grief it brings, including a hospital doctor who, all too often, has to break the news both to patients and relatives.
But clowning and death? Slapstick and grief?
Why not? Clowning exaggerates, takes us beyond the everyday. It enables us to see from a different perspective. We all know the famous pantomime 'take-off' scene in which a ghost carries off characters one by one as the audience screams "It's behind you!"
Of course the ghost is a covered by a sheet out of which circles have been cut for eyes. Just such a ghost appears here and no one on stage notices. Then one does and goes to embrace it. The body within the sheet vanishes and the performer is left holding a sheet which she carefully folds and puts away.
How much does that say in such a short time? And so much of Good Grief works in just this way.
An old man in his armchair, Santa Claus hat slightly awry on his head, one of Santa's elves on each side of him, with the soundtrack "All I Want For Christmas is You" playing.
Image follows image, almost falling over each other, but building up, all the time insinuating themselves into your brain forming linkages.
This is one of those shows where, for much of the time, you sit with reactions like "Eh? You wha'? What's that all about?" but later, as it works its way from your subconscious to your conscious mind, the reaction changes to "Yes! Of course!"
Thanks Ugly Bucket. You really made me think.
This was performed before a live, socially distanced audience and live-streamed. I watched the stream.
Reviewer: Peter Lathan