Good Grief
Keith Waterhouse
Theatre Royal Bath
Yvonne Arnaud Theatre, Guildford
–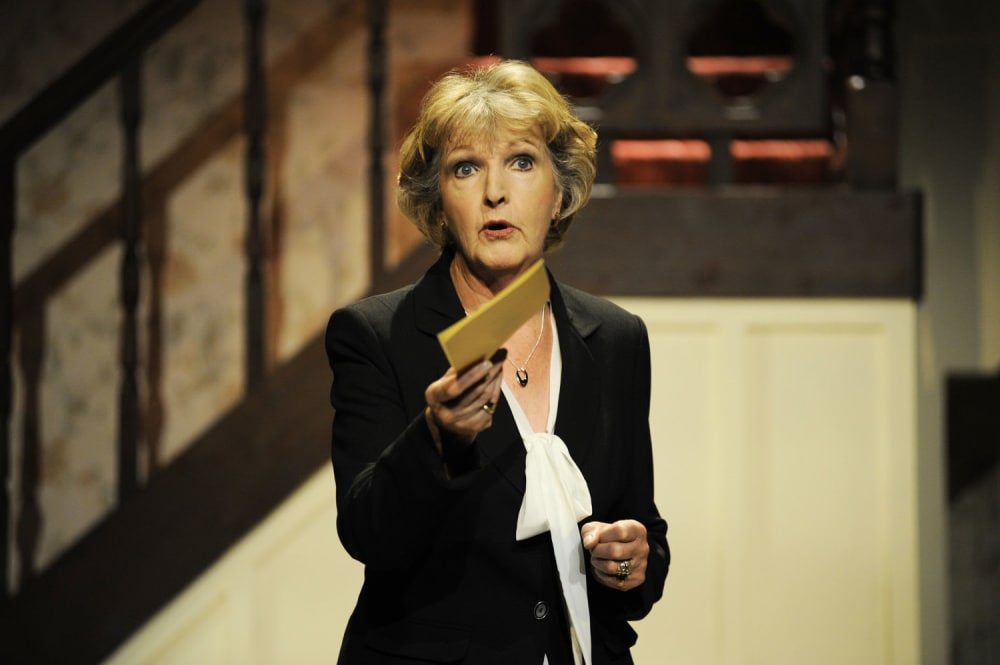 Yorkshire people have a reputation for calling a spade a spade—or in some cases "a bloody shovel". The dialogue in this play is straight-talking, no-nonsense, right-from-the-heart and factual, with no subterfuge or pretentiousness and, in the Waterhouse style, extremely funny but still in impeccable grammatical English with a few 'Yorkshire-isms' thrown in.
The subject matter is bereavement and grief and who would have thought there could be so much comedy, yet the first act is almost non-stop laughter. Recently-widowed, June, converses with Sam, her late husband, furious that he has left her to deal with all the essential details of life on her own. The funeral service has obviously irritated her too. Why, she wants to know, does every funeral have to play Frank Sinatra's "My Way" and talk about 'slipping away into the next room"? The final straw is Vera Lynn singing "We'll Meet again".
She reminds herself too of her irritation at Sam's constant repetitions—"Age before beauty", "sooner out than in"—but at least he wasn't a womaniser: "Too fat, too pissed and too bone idle".
Despite a surprisingly wobbly Yorkshire accent, Penelope Keith carries this show by default as the script is virtually a monologue and could very easily be presented in the style of Alan Bennett's Talking Heads, but that is not to dismiss the other performers who each expertly add physical presence and emphasis to the dialogue.
Flora Montgomery is Pauline, solicitous, trying to be helpful, and anxious to get her stepmother off the bottle and outside for some food, but perhaps she has her own problems.
Jonathan Firth is Eric, a newsman and junior colleague of June's editor husband, and with the most insincere ingratiating smile I've ever seen ("He's a slimy bugger Sam") and Christopher Ravenscroft is a man who it seems has fallen on hard times and is now known as "The Suit" simply because he is wearing one of Sam's suits, bought in Oxfam.
He 'fixes' her fridge door and offers his help with any other jobs. She hears herself making a very unexpected suggestion, but warning bells start to ring when he talks about borrowing money.
A twist to the story of the stages of grief is the mystery of a packet of letters written by Sam's daughter when a child, and their contents in act two halt the laughter and almost bring tears, and even more anger to June who feels she has been betrayed.
Director Tom Littler keeps the dialogue very fast-moving with the comedy understated (and all the funnier for that) and Keith (adored by the Guildford audience, and with good reason) is an expert at expressions, intonations and timing which give subtle but very appropriate emphasis to the comic aspect.
Simon Kenny's Edwardian house set contains so much stained glass that, in the dimly-lit first scene, I thought we were in a church. It has some very ingenious sliding mechanism, instantly changing the house into a pub, although I think a little adjustment to the seating here could have made it less awkward to walk around the table, and I do not understand why the pub and house furniture appeared together in one scene.
Tragedy and comedy go hand-in-hand through life. This play addresses the depth and complexity of feeling after the death of a loved one—but comedy has the upper hand and it's very funny and a joy to watch. Recommended.
Touring to Cambridge and Malvern.
Reviewer: Sheila Connor