Goodnight Mister Tom
A play by David Wood from the novel by Michelle Magorian
Chichester Festival Theatre
Phoenix Theatre
–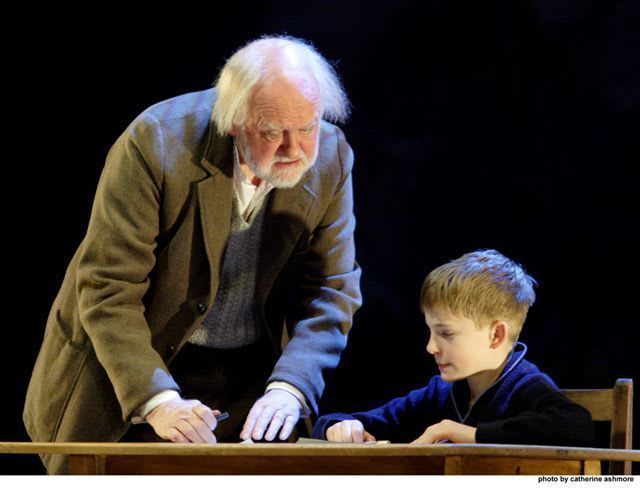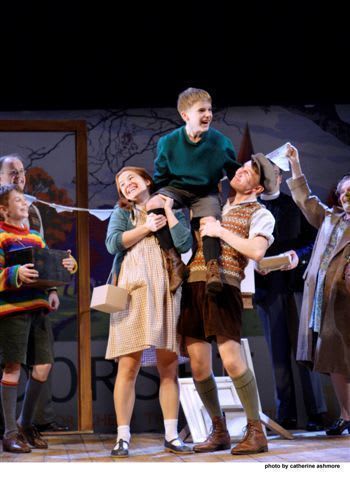 This adaptation of Michelle Magorian's story about an evacuee boy from a strict Deptford home who is billeted on a reclusive widower in Dorset won plaudits both when it premièred at Chichester last year and on tour. Now it plays a short London season before going on tour again.
With David Wood dramatising, you know that it is going to stay true to the original book and you expect it to be theatrically effective and this production doesn't disappoint on either count. With a spirited juvenile cast and a team of adult actors who present us with characters they give real life, it also revels in its own theatricality.
Angus Jackson's production and Robert Innes Hopkins's design move rapidly from scene to scene with just enough setting or introductory action to establish location, sometimes so fluidly that you hardly see what has happened and occasionally ominously slowly, to establish a total change of mood, the setting moves to Blitz-stricken London.
Even to a generation that may never travel by steam train, a billow of smoke and steam and a row of waiting passengers conjure up a railway station platform, a group on the ground in the dark makes them feel the close community of an air raid shelter, a scampering puppet squirrel the exciting strangeness of the countryside.
Oliver Ford Davies gives a masterly performance as Tom Oakley (Mister Tom). Perhaps at first he could be more of a grumpy old man, for there is little doubt about the warmth and kindness beneath his gruff exterior, but this is not a study of a man finding a better temper but a kind of healing. Ford Davies shows us the joy and renewal that little William Beech brings into a life that had been shattered by personal loss forty years before.
At the press performance, Ewan Harris made a touching William with William Price his extrovert new friend Zach, as flamboyant as his rainbow-striped jumper. Each shares the role with two other young actors. The adult actors doubling other roles are faultless, although Aoife McMahon, as William's mother, is not given a chance to suggest why she should be so vindictive and bigoted and the play moves so swiftly that it is not made clear that it is not until the end of the month after he goes back to London that she disappears.
Puppeteer Elisa de Grey, soon becoming almost unnoticed in flat cap and stable boy breeches, makes Tom's sheepdog Sammy totally endearing, always responsive but never distracting. The production often shifts focus to Sammy to make points through his reaction, whether alertly apprehensive at the fall of a bomb or anxiously urgent to get into the locked-up house where he senses he will find William.
Like Sammy, this whole production can pull at the heartstrings but it does so without ever becoming sentimental and never flinches at displaying the dark side of the story.
Reviewer: Howard Loxton