The Good Soldier
From the novel by Ford Maddox Ford, adapted by Julian Mitchell
Ustinov, Theatre Royal, Bath
(2010)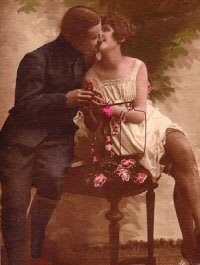 Ford Maddox Ford's masterful tale of life and love and of the messy reality behind the slick veneer of Edwardian 'good' society, poised on the brink of destruction in 1913, is, in Julian Mitchell's words, "a novel like no other". Its complex layers of propriety, religion, marriage and lust make it an irresistible story, ripe for a stage adaptation.
The real challenge for Mitchell lies in how to manage Ford Maddox Ford's narrator, John Dowell, who doesn't stick to a linear narrative but rather flits between time frames, replaying scenes several times over as he garners a clearer understanding of events. On the page or on screen this is an effective device; on stage it could have proved more problematic.
In fact Mitchell's adaptation trips effortlessly through this altering timeframe, seamlessly weaving in a series of tableaux into the narrative. The text is brought vividly to life by Matthew Lloyd's direction and given added fluidity by Olly Fox's beautiful musical score which subtly frames the piece's constantly changing perspective and location.
This is an impeccable cast, without weak link. The story is anchored by Jonathan Forbes' delicious John Dowell, who draws the audience into what Ford Maddox Ford originally titled The Saddest Story, and who struggles himself to make sense of what is, to him and to us, the alien culture of the Edwardian English upper class, as well as the conflicting religious tensions which lurk just beneath the surface of these two ill-fated married couples.
Flora Montgomery excels as the much-maligned Leonora Montgomery and John Hopkins brilliantly picks apart Edward Ashburnham's outer veneer, finally exposing him as a hapless slave to his own "polygamous desires". Jennifer Woodward does well as Florence Dowell and Lisa Kerr captures all the innocent allure of Nancy Rutford, fresh out of convent school and as yet entirely ignorant of the effect she has on the men who surround her.
Matthew Lloyd has Helen Mallon take on a colourful assembly of Edward's dalliances, so that we are left in no doubt from the start that it is less the other woman and more the thrill of the chase to which Edward finds himself addicted.
This is a hugely successful adaptation and an entirely captivating production, well-crafted and beautifully staged.
At the Ustinov until 14th August
Reviewer: Allison Vale