Good with People
David Harrower
A Paines Plough / Òran Mór Production
Part of the A Play, A Pie and a Pint series Traverse Theatre, Edinburgh
(2010)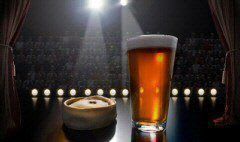 Last time I saw Andrew Scott-Ramsay on stage it was in Yellow Moon and he shines again in this little two-hander with Blythe Duff. They play Evan a young man returned to his home town and Helen a receptionist at the hotel he stays at. It's simply done with two chairs and some red hotel carpet.
Helena's son was at school with Evan and, as the two characters enter into conversation, Helen starts to dredge up an incident from Evan's childhood. The performances are really strong, very personal and with the moody lighting of the hotel foyer it all felt very close. It isn't a really dark piece though.
Rather than building up to a really shocking revelation the play ended in a more redemptive way. Helen's grudge against Evan is softened over the play and both of them helped to ease some of the problems they are having. There was something quite heart-warming about how these two wounded creatures bonded.
Duff looks a little young for the part, but, on investigation, in real life she is old enough, just looking very good! Her performance though does convey her age and anguish.
They are both really great presences, but I really enjoyed seeing Scott-Ramsay again and I hope he is back in something soon: such a lovely smooth confidence on stage.
Reviewer: Seth Ewin