Gorilla
Written by Anthony Browne Adapted by Rachel Barnett
Polka Theatre
–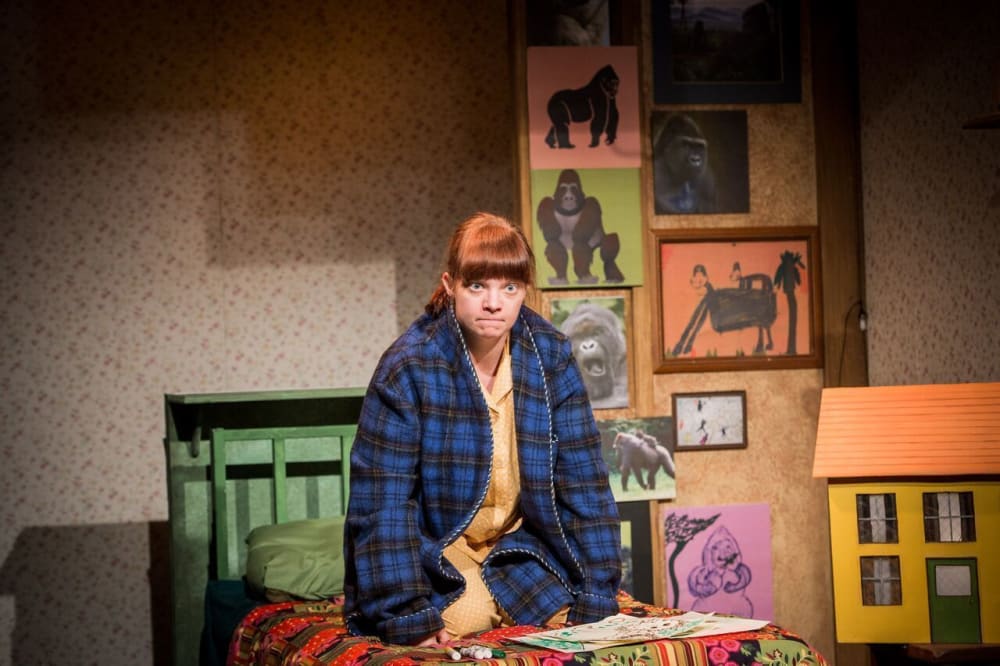 The Polka's staging of artist and writer Anthony Browne's popular story was seen in its intimate Adventure Theatre a couple of years ago. Now, with the same team and cast and some new songs, it has moved up to the main house. It is a treat.
Ceri Ashcroft as Hannah is already tidying up her room in her yellow pyjamas and her dressing gown when the audience enters. Her bedroom has photos and pictures of gorillas everywhere. We eavesdrop as she eats a banana and sets to work on another drawing of a gorilla until everyone is ready and she starts to talk to us.
Gorillas, of course, are her favourite animals. She tells us she loves everything about them, that she has become something of an expert about them and shares some of that knowledge but—and it is a big but—she has never actually seen one for real. No, not even at the zoo, cause her dad is always too busy to take her.
When dad gets home (he's played by Phil Yarrow) you see just how busy he really is. They two of them have their own friendly routine but for him it is more work and bed then up in the morning and off again—every day (in a speeded up sequence).
But Dad has promised a gorilla for her birthday and now it's going to happen. Her birthday is tomorrow.
She is asleep when dad creeps into her room with her present but hey, gorillas are pretty big aren't they? As he slips out he wakes her and she opens the box to find just a toy one. No, she's not happy! But once she's asleep again things happen.
With Ashcroft and Yarrow now turned puppeteers a really big gorilla turns up (well, he's really big compared with puppet sized Hannah). Picking her up with one hand and reaching out for a branch with the other they go off together swinging from tree to tree. To the zoo, to meet the other primates, to the cinema (where the trailers introduce monkey names, for a slap up meal with burgers and ice cream with cherries on top.
In the morning her present isn't just a small toy gorilla there's a trip too with dad.
Oh dear, I've just told you the story, but you probably knew it anyway.
Director Roman Stefanksi, designer Laura McEwen, music by Julian Butler and two smashing actors make Rachel Barnett's adaptation work wonderfully. It is a simple, straightforward telling but full of imaginative touches and played with such conviction.
It lasts about 45 minutes and is aimed at 4-7 year-olds. If you have children then take them; if you haven't you sneak in on your own.
Reviewer: Howard Loxton