Gotta Sing, Gotta Dance
Directed by Chris Jordan, musical direction by Robert Cousins, choreography by Nick Winston
Darlington Civic Theatre and touring
(2010)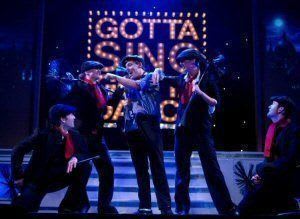 If you love Lloyd-Webber, go ga-ga for Gershwin, or sing-along to Sondheim, then Gotta Sing, Gotta Dance is the show for you! In a nutshell, it is a celebration of all things musical – be it from the West End, Broadway or the Silver Screen.
Seven sensational singers and dancers take the audience on a memorable musical journey that encompasses seven decades in a mere two hours. Well, what's not to like about that, eh?
You'd be hard-pushed to think of a show that is not included in this terrific, toe-tapping treat. Without leaving the comfort of the Civic's plush red seats, you are transported to the American Wild West (Annie Get Your Gun, Oklahoma!), Olde Worlde London (Oliver!, Mary Poppins and Sweeney Todd), the streets of Liverpool (Blood Brothers) and the magical land of Oz (Wicked).
The cast work their socks off throughout and are backed by a band that never hits a note out of tune. Numbers are choreographed with panache and precision and executed with energy and enthusiasm.
Certain sections are used to pay homage to the best in the business, including Lord Lloyd Webber and Stephen Sondheim, whilst others celebrate the increasingly prolific 'juke-box musical' or provide a fast and furious four-minute round-up of the productions that are currently wowing the West End.
If, like me, you're a self-confessed musical junkie then you will want to 'Put On Your Sunday Clothes' and head straight for the theatre. If not, then you'll want to yell 'Tell Me It's Not True'.
Runs until Saturday 18th September, then touring to Yvonne Arnaud, Guildford; Alban Arena, St Albans; Orchard Theatre, Dartford; Northcott Theatre, Exeter; Pavilion Theatre, Bournemouth; Assembly Hall, Tunbridge Wells; Cliffs Pavilion, Southend; Gordon Craig Theatre, Stevenage and Theatre Royal, Wakefield.
Sheila Connor reviewed this production at Guildford.
Reviewer: Steve Burbridge