Gotta Sing Gotta Dance
Jordan Productions (in association with Eastbourne Theatres)
Yvonne Arnaud Theatre, Guildford, and touring
(2010)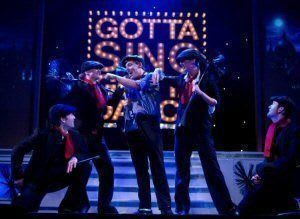 The title says it all and it does just what it says on the tin - er - programme: "A magical night at the musicals". I might have dismissed as just a compilation of songs from the shows, most of which I have already seen in their entirety, but I would have been wrong to do so. This production is very much more than that and presented by a cast who give their all with enthusiasm, joie-de-vivre and enough energy to keep the National Grid supplied for a fortnight.
These amazingly versatile performers dance, sing and act, and I would not be surprised if they are also musicians. Performing "Honey Bun" from South Pacific they make do with imaginary instruments creating vocal sounds to match, but the real music is provided by Robert Cousins and his five piece band at the back of the stage, heard but hardly seen, and my one and only criticism of the whole show is the occasional lapse when the band becomes a little overpowering and makes it hard to distinguish the lyrics (most particularly in "One Brick at a Time") otherwise the music is as exceptional as the dancers.
Covering at least fifty musicals, taken from the early days of This is The Army, Girl Crazy and White Christmas to the present with Love Never Dies and Hairspray, the songs are mixed and matched, falling over each other in a rush to be heard and a little information is given about their beginnings and how they evolved often appearing again in another show.
What makes this show so interesting, and keeps attention focused, is the variation throughout. Moving from fast paced tap, and two boys competing for supremacy in their routines, to ballads which pull at the heart strings, and they still find time (and breath) for comedy. "On My Own" from Les Miserables and "Only He Has the Power to Move Me" are both sung most movingly by Rebecca Lisewski, and Clare Rickard's mobile features figure in a lot of the comedy.
"Anything You can Do" from Annie Get Your Gun provides the basis for a competitive verbal battle between America and Britain with the frantic and sophisticated tap numbers from 42nd Street interspersed with the bowler-twirling, spoon-playing Cockneys' "Lambeth Walk" from Me and My Girl and, just in case we hadn't seen enough they whizz through all the musicals in the West End in four minutes flat -- well they were certainly flat out at the end of that one.
The choreography is amazing - versatile, intricate, inventive and a real challenge to the performers, but Nick Winston isn't satisfied with simply dance. He has them tackling circus skills in Barnum, acrobatics, plate spinning, juggling and even roller skating for Starlight Express.
Musicals are often dismissed as being sheer froth with a silly story. That's not a problem with this one, there's no story at all, simply all the great musical moments presented with flair, imagination and some ingenious interaction and witty badinage between the performers.
Somehow director Chris Jordan keeps tight control while having the show moving at a breathtaking pace which has the audience gasping if not the dancers. Sheer joy from beginning to end. I loved it!
Until 25th September, then touring to Croydon, St.Albans, Dartford, Exeter, Bournemouth, Tunbridge Wells, Southend, Stevenage and Wakefield.
Steve Birbridge reviewed this production at Darlington
Reviewer: Sheila Connor