Götterdämmerung
Richard Wagner
Sofia Opera, Bulgaria
Released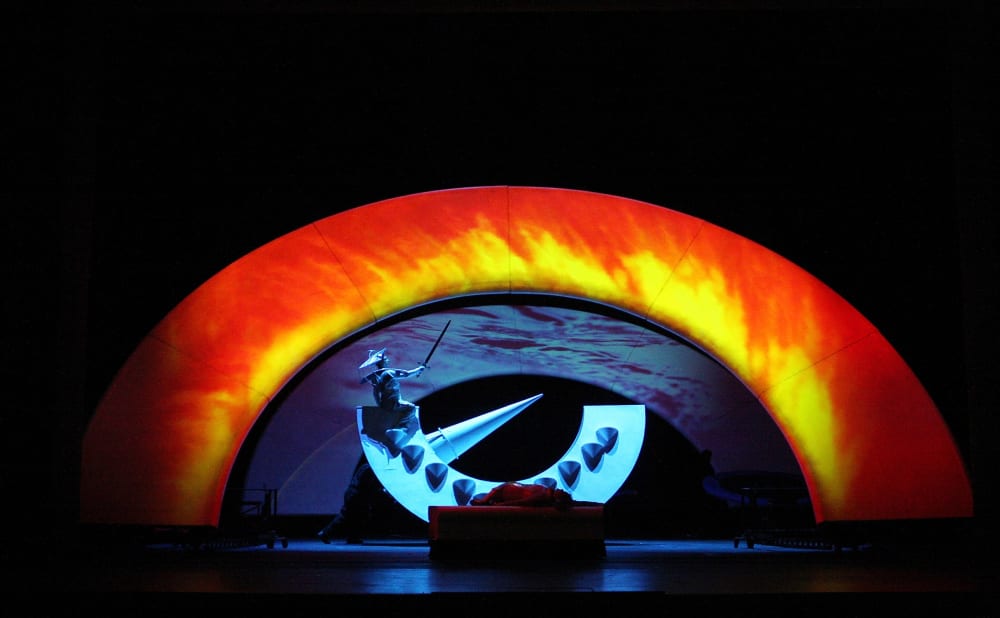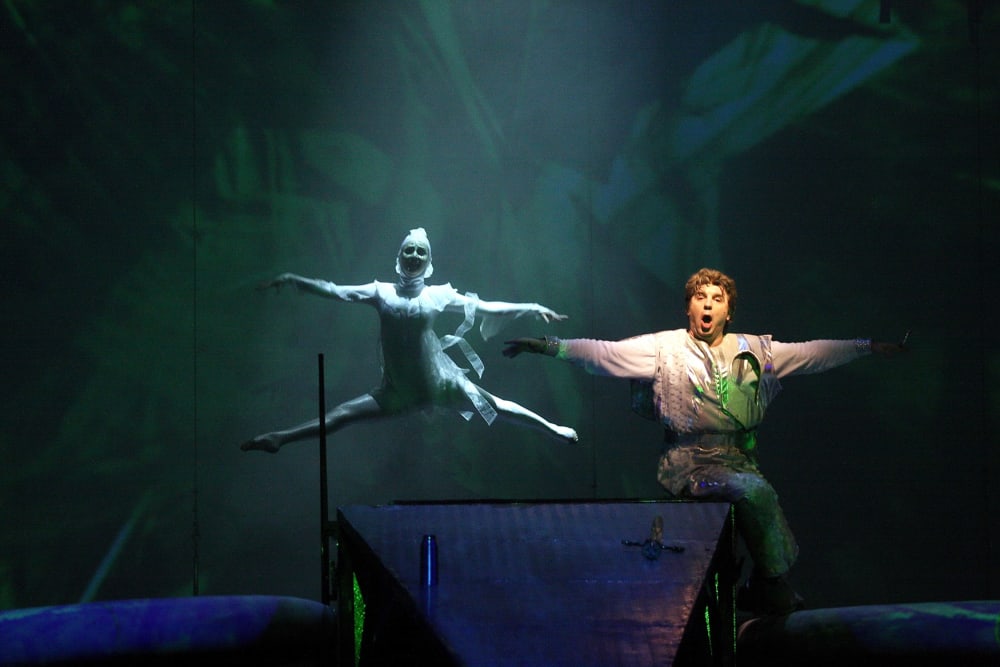 Sixteen hours have elapsed since the trampolining Rheinmaidens opened the Sofia Ring cycle. Since which time, the Valkyrie have ridden onto stage atop what looked like ballistic missiles, the Gods and Niebelung alike have been garbed in plastic and metallic polyester, and now the Norms have emerged through the portholes of a flying saucer.
I wondered in previous reviews of the Wagner tetralogy, staged over four years from 2010 and recently released on DVD, where all this was taking us. A parable on the evils respectively of money, power, and trivial human vanity? Was is significant that Siegfried and Brunnhilde are clothed at the end in slightly less flashy Flash Gordon outfits than was the style of the fallen gods?
That is about as far as I would go in offering an interpretation, however. After all, Siegfried has recently reappeared on his own personal warhead.
With ropey, misbehaving props, and rickety, jolting platforms, director Plamen Kartaloff's weird production totters perilously close to becoming The Ring that Goes Wrong. The four parts are at least consistent in realisation, and a key to any understanding may be in the role of Nikolay Panayotov.
Panayotov, a surrealist artist with no apparent previous—or subsequent—experience in the theatre, designed both sets and costumes. The meaning of his conception is perhaps that it has no meaning, an absurd tale out of its time and not to be taken seriously. It's a view, and for all its absurdity, I felt a soft spot for it.
That is largely because the performers, whatever they thought of the production, manage to preserve their dignity, with outstanding performances from Kostadin Andreev as Siegfried and Petar Buchkov as Hagen.
The bright tenor voice of Andreev, new to this part of the cycle, rings out above the orchestra, and he portrays the naïve, heroic, semi-comic character with perfect judgement. If the crucial moment when he resists Hagen's effort to take the ring is botched, don't blame the actor.
Buchkov, who appeared previously as Fafner, is terrific, with a big voice that conquers the unhelpful acoustics of the Sofia Opera House. He shares some of the piece's best moments, mercifully free of clanking stage machinery, with Biser Georgiev's Alberich, who gives another demonstration of clear expression and precise articulation.
Yordanka Derilova becomes the third Brünnhilde of the cycle, always a commanding figure on stage, but a little under-powered in the lower register and with a vibrato that can make intonation seem uncertain.
Tsveta Sarambelieva steps up from the previous role of a Rheinmaiden to that of Waltraute, showing depth and intensity of feeling over the demise of Wotan, one of the opera's rare moments of tender remorse. The rich-voiced Tsvetana Bandalovska, previously Sieglinde, is similarly expressive as Gutrune, and newcomer Atanas Mladenov impresses as Gunther.
Conductor Erich Wächter, another newcomer in the cycle, is the only non-Bulgarian in the entire enterprise. I can only imagine that his predecessor, international award-winning Pavel Baleff, was unavailable. There are some initial difficulties of co-ordination with singers at the opening, but the orchestra generates plenty of excitement for the gathering of Hagen's followers, without losing subtlety of phrasing, and the ensemble sounds magnificent for Siegfried's Journey and Funeral, with horns and brass outstanding.
Sound balance is reasonable. The first disc is very tight on space and may finish a few seconds early on some players. A good accompanying booklet follows the style of those for preceding volumes with cast list, timed tracks, background feature on Wagner's Ring and synopsis. Not one of them has a word about the production.
The Sofia Ring cycle has now been issued as a 4-disc Blu-Ray set.
Reviewer: Colin Davison