The Graduate
Terry Johnson
Tabs Productions
Customs House, South Shields, and touring
(2009)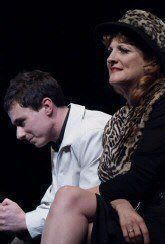 There can't be many people who have not at some point in their lives witnessed an iconic scene from the ground-breaking 1960s film The Graduate, immortalised by a young Dustin Hoffman and seriously yummy mummy Anne Bancroft.
Achieving further success in the West End through big names like Kathleen Turner and Jerry Hall, adapting it for the slightly smaller stage must have been no mean feat for Tabs Productions. The cult characteristics of the original are evident throughout, with the talented Grant Orviss exuding the same nervous energy and excitement of Hoffman, underlined by the haunting sounds of Simon & Garfunkel. But then why do it any other way?
For those who have been without books, film or television for the past half a century, The Graduate tells of a disillusioned and naive young boy, Benjamin Braddock, who has returned home from college to his "have it all home" and monotonous, suburban way of life. Desperate for adventure he is effortlessly seduced by his parents' friend Mrs Robinson. Karen Henson wonderfully recreates the man-eating and achingly desperate and lonely seductress.
Benjamin soon manages to position himself at the centre of a mother-daughter rivalry, which is where the minor cracks in this production appear. Although Heather Saunders effectively portrays the sickly-sweet and innocent doe-eyed daughter Elaine, I was not wholly convinced by the relationship between her and Benjamin to the point where I thought he'd be better off with the empty, alcoholic mother. However, this was still a brave attempt to recreate a much-loved masterpiece, with solid, supportive performances from John Hester as Mr Robinson and Susan Earnshaw as Mrs Braddock. Particular mention should be made to Sarah Wynne Kordas' superbly simple set, which switched effectively from bedroom to hotel to seedy bar.
Reviewer: Emily Taylor