Grand Guignol
Carl Grose
Theatre Royal Plymouth
Southwark Playhouse (The Large)
–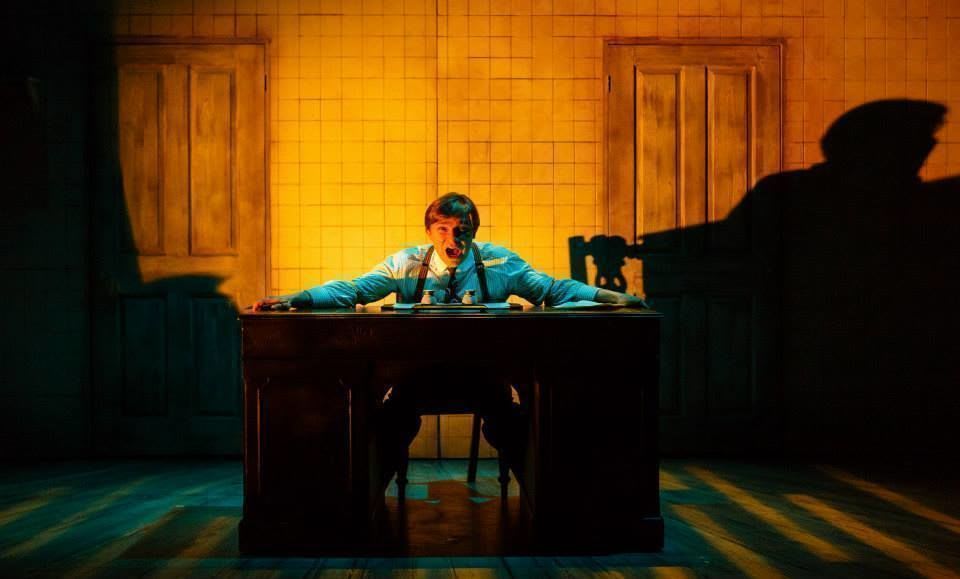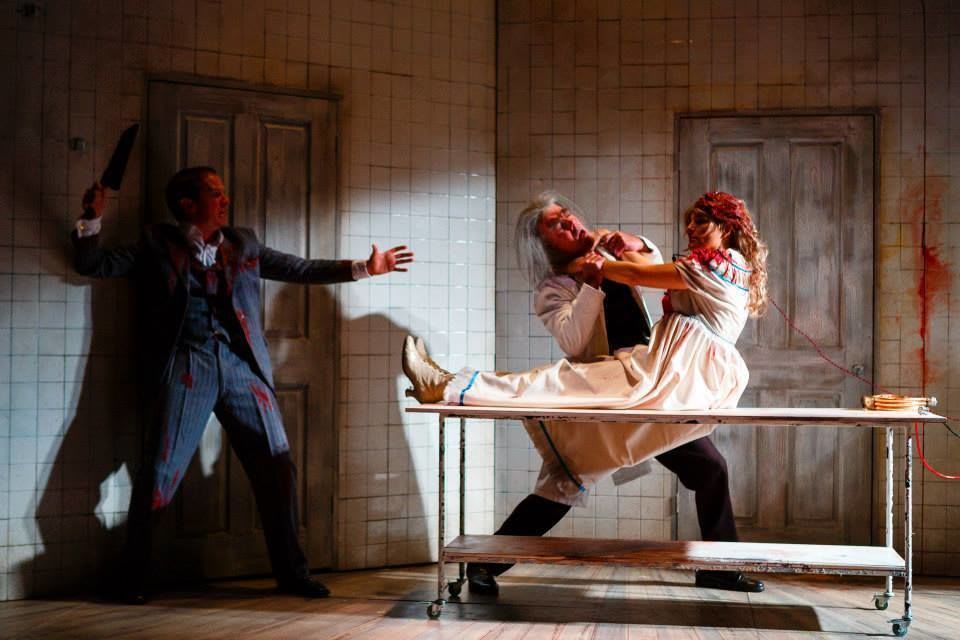 Carl Grose's Grand Guignol takes its audience back a century and turns Southwark Playhouse's larger theatre into what was then the smallest theatre in Paris: a converted Pigalle chapel that in 1894 became Le Théâtre du Grand-Guignol.
Now manager Max Maurey is introducing the kind of gory entertainment that was soon to be given its name and the red curtains of its gothic proscenium open on a tale of horror.
In a white-tiled institute for the insane, the inmates have taken over. A savage attack sees a torn-out tongue and a body falling out of the window. It is too much for some and, with a customer fainted on the floor, manager Maurey is asking, "is there a doctor in the house?".
Classic moments from plays in the theatre's repertoire follow, but this is not just an anthology of century-old Grand Guignol performance. Carl Grose has a contrived a play that not only provides a framework for their presentation but gives us another story, complete with its own horrors, built around the leading lights of that company in the Rue Chaptal.
Manager Maurey is joined by leading actor and actress L Paulais and Paula Maxa (so often a victim that she was known as "the most assassinated woman in the world") and their fellow performer Paul Ratineau, who was also stage manager and creator of the theatre's gory realistic effects. Maurey pressures resident writer André de Lorde (self-styled "Prince of Terror") to make his plays increasingly horrific and they are developed with the collaboration of psychologist Dr Alfred Binet.
While these were all real people, the play is fiction: de Lorde wrote his first play for the Grand Guignol in 1901 but it was 1917 before Paula Maxa joined the company and by then Maurey was no longer manager. It freely takes off into its own world of a mass murder the "Monster of Montmartre" and Lorde's terrifying nightmares, all in the Grand Guignol tradition. The result is a riot of (literally) bloody fun whether in flight from Poe's croaking raven or watching someone being strangled by his own intestines.
This company plays it in accomplished style. Robert Portal is a poker-faced clipped-voiced Paulais, Emily Raymond a histrionically self-indulgent Maxa who both think of themselves as stars. Paul Chequer makes busy Ratineau, always rushing off to get things done and back on cue when needed, a believably efficient stage manager and Andy Williams a genially dominant Maurey.
The public de Lorde is gently charming and rather cuddly, but Jonathan Broadbent also reveals his haunted imagination. He is well paired with Matthew Pearson's Dr Binet, bringing scientific investigation to sort out his problems, though their collaboration… I'll say no more, but you can guess where this is going.
Alex Doidge Green has contrived a cleverly adaptable white tiled setting that switches from "real" live to stage play in a moment through a succession of institutions and laboratories, its atmospheres backed up with David W Kidd's lighting and Adrienne Quartly's stormy sound design and the echoing thumps of the traditional French theatre's three strokes made menacing.
Simon Stokes's direction keeps just the right balance between fright and fun, tipped most definitely towards laughter accompanied by amazement at the cleverness and timing of the heaped-on horrors, all just sufficiently overdone to guarantee shrieks of laughter rather than sick-making terror.
The cast not only create their "real-life" characters but play all the roles in the Grand Guignol repertoire as they would have done while also making the audience feel part of some elaborate game.
This isn't a show to give people nightmares. They will want it to have more of it, not beg it to stop.
Reviewer: Howard Loxton