Granny Smith
Tracey Boot
Theatre Transformations / Tracey Boot
French Institute in Scotland
–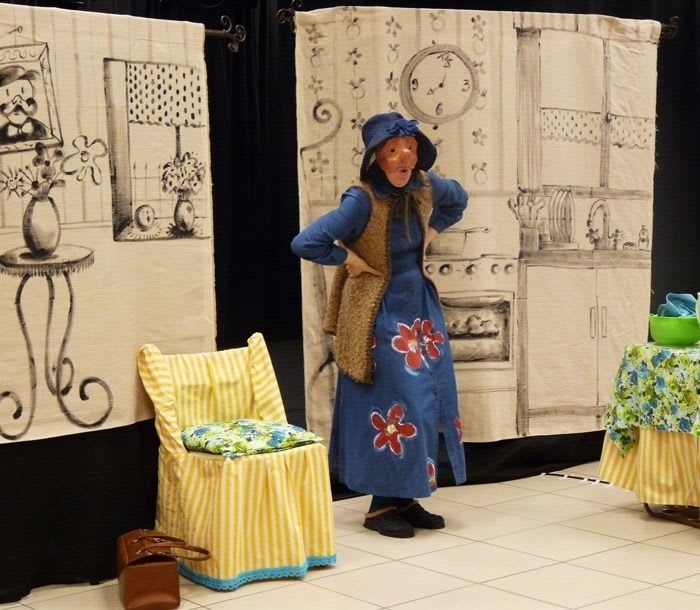 Granny Smith has forgotten almost all of her English! But, undeterred, she will steer the audience round her bijou house, and recapture some of the language she has shed over the years.
Tracey Boot, Lecoq trained performer and mask maker, takes on the persona of the titular Granny and, with a great dollop of good humour, has the amused patrons sing, dance, and even help bake a cake, all while learning some basic English words.
It's surprising that this has been booked as a comedy theatre show, rather than part of the Childrens Shows section, as it is very clearly a kids' show, designed to teach some basic English to French schoolchildren. This has the unfortunate effect that the audience was entirely made up of adults when I saw the production and, while there certainly was a sense of convivial camaraderie, some of the early parts of the show did move slowly.
Indeed, while this is certainly something to recommend to children both French and English, as each will learn from the experience, it's less well fitted for adults. This, combined with some curious choices, such as passing out pears and paring knives to audience members without so much as a dish-towel or a bowl to work over, seemed rather ill-thought through.
Still, it's an hour of silly fun, that will appeal to anyone trying to steer their offspring gently into a bilingual future.
Reviewer: Graeme Strachan