The Grass Is Greener
Hugh and Margaret Williams
Yvonne Arnaud Theatre, Guildford, and touring
(2009)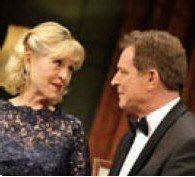 It's hard enough having to open your stately home to tourists in order to keep an aristocratic roof over your head, but what to do when an American millionaire takes a wrong turning on his guided tour and runs off with your wife. Victor's reaction is unexpected to say the least but keeping very much to a tradition begun by his great, great grandfather, and, with some careful organisation, he finds the answer.
This gentle very English comedy, written in the nineteen fifties, might be rather dated but that doesn't detract from the slick wordplay and the verbal sparring between all parties. A battle between the sexes is played out with reason and logic, and a little devious manipulation, rather than arguments and recriminations and, according to the conventions of the time, occasional extra marital relations seem to be totally expected, accepted and no reason to end an otherwise successful marriage - at least among the aristocracy.
The scene is set in designer Simon Scullion's oak-panelled living room. An impressively ornate chandelier adorns the high ceiling, tapestries are hung on the walls, enormous windows overlook the grounds - and a riding hat slung carelessly on the back of a chair together with the distant sounds of sheep add to the impression of a vast country estate. Here the lord of the manor is counting out the half crowns paid in by the visitors - it's a happy household with the owners, and the essential but unusual butler (Giles Fagan) working together to bring in enough income to manage to make ends meet.
Before the end of Act One, however, the American intruder Charles (Jack Ellis) has come to visit, and a very appropriate cuckoo appears to have taken up residence nearby and insists on making his own comments on the situation.
Christopher Cazenove perfectly captures the sum and substance of a man steeped in tradition and determined at all costs to preserve his little bit of England for posterity. Affable, friendly and helpful - he keeps up appearances for the tourists to the extent of keeping a butler which he can't afford. Liza Goddard is wife Hilary - impish, elfin and vivacious - and looking much younger than her years (whatever they may be). She may have taken a shine to the American but affairs are not one-sided and Victor, it transpires, has had a relationship with her best friend Hattie. Sophie Ward is a very artificial and pretentious Hattie, very much in the style of the 'Sloanes' of the time and with some expressive comedy lines, yet still managing to convey a likeable personality giving credence to her friendship with Hilary. Everyone, it seems, knows everything about everyone else, yet chooses to talk as if there is nothing amiss - until ....
Joe Harmeston's production is well-paced, undemanding, yet very funny and very enjoyable and it's good to attend a production which sends the whole audience out with a smile on its face
There is also an interesting article in the programme notes by Simon Williams as a tribute to his parents and giving the background on how the play began.
Touring to Bromley, Eastbourne, Richmond, Brighton and Glasgow.
Reviewer: Sheila Connor