Grease
Book, Music and Lyrics by Jim Jacobs and Warren Casey Additional songs by Barry Gibb, John Farrar, Louis St. Louis and Scott Simon.
Paul Nicholas and David Ian by arrangement with Robert Stigwood
The Hawth, Crawley
–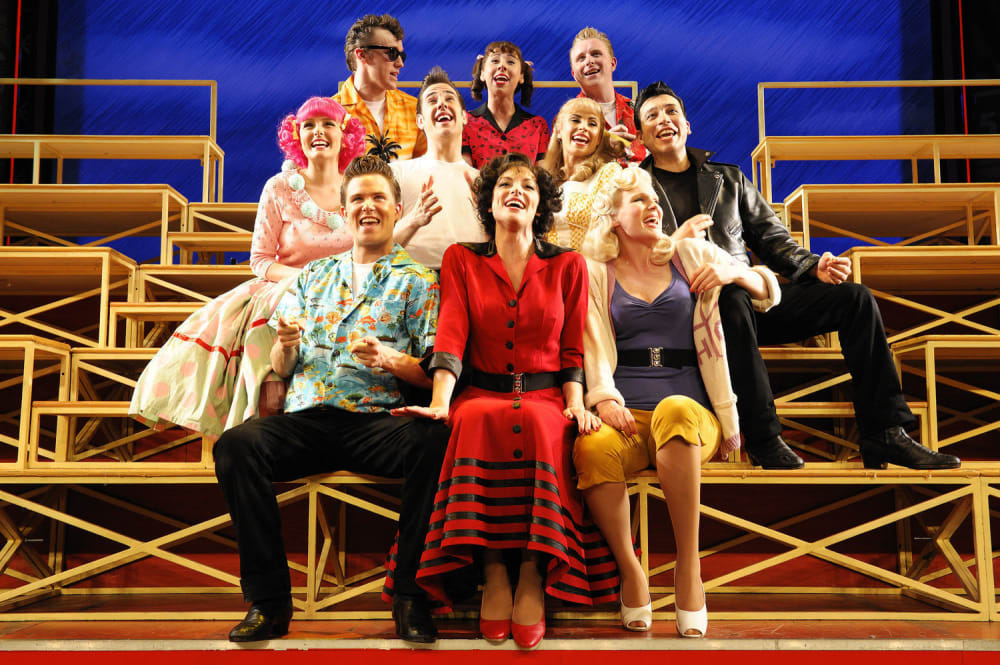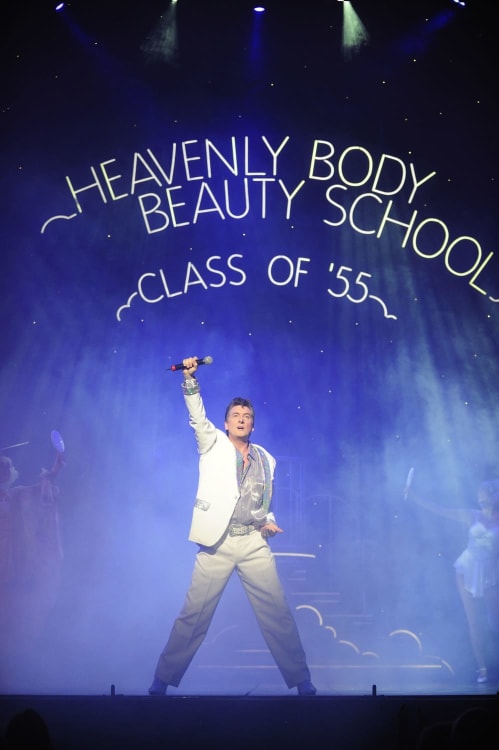 Written in 1971 and harking back to the supposedly carefree schooldays of the fifties, this Rama-Lama-Ding-Dong musical just refuses to die. The story is simple. Danny and Sandy fell in love over a sun-kissed summer on the beach and now find they are in the same high school. Will their love last? Well in this play all she has to do is turn herself into a tart and he's hooked.
Not the best message to pass on to adolescent youth, but if you can ignore the morality aspect, then it's just a feeling of the joy and exuberance of youth with music that makes you want to dance and some very pertinent and amusing lyrics. There are some niggles though, especially from one who practically knows the score backwards.
The 1978 film starring John Travolta and Olivia Newton John was such a hit with action, songs and even dialogue so well known, that it's a challenge to reproduce this on stage, even if that is how it all began, and there are some points that I feel have missed the point. The lyrics in "Summer Lovin'" for example lose the humour in the contrast between Sandy's memories of her meeting with Danny and his version, probably due to pace and the amplification of the sound system, and the sequence of some of the events has been changed.
Having got that out of the way, it's still a feel-good musical with the joie de vivre of effervescent youth, but also addresses the insecurities of that period in life and the importance of loyalty and friendships illustrated by "Always Together" which finishes off a very complicated hand jive.
I can't think that any of the newly added songs will be particularly memorable, but they, and director David Gilmore, keep the show swinging along at a hectic pace with the cast giving their all to Arlene Philips's style of slick, staccato, and very intricate choreography. Sets swing in and out with precision and there is a very speedy surprise switch from beat-up motor to the now resplendent "Greased Lightning".
The boys (the T-birds) with their leather jackets and greased back hair are quite difficult to tell apart, but Danny Bayne is a suitably arrogant Danny swaggering in front of his mates, before his nervous giggle shows he not quite so confident, and Ricky Rojas as Kenickie nicely expresses his concern for his girlfriend—after making her pregnant.
Carina Gillespie's Sandy and Kenickie's girl Rizzo (Kate Somerset How) can both belt out a song with feeling and hold a note for ever, but I rather liked Laura Wilson's sweeter rendition of "It's Raining on Prom Night", somewhat overshadowed by Sandy. The highlight of the show for me, though was Frenchy (Lauren Stroud)'s "Beauty School Drop-out" and the appearance of Robin Cousins's Teen Angel. Cousins, the best figure skater of all time (well I think so), is nowadays mostly seen behind a desk as a judge, but he still has the moves, the energy, the humour, stage presence and a great and wide ranging singing voice.
The show concludes with "You're the One that I Want" and the audience made it quite clear that this show is the one they want and all left the theatre singing.
Touring to Bristol, Nottingham, Northampton, Stoke on Trent, Sheffield, Newcastle, Plymouth, Southend, Llandudno, Bournemouth, Eastbourne, Dartford, Ipswich, and Southsea.
Reviewer: Sheila Connor