Grease The Musical
Book, music and lyrics by Jim Jacobs and Warren Casey
Curve Theatre
Curve Theatre, Leicester
–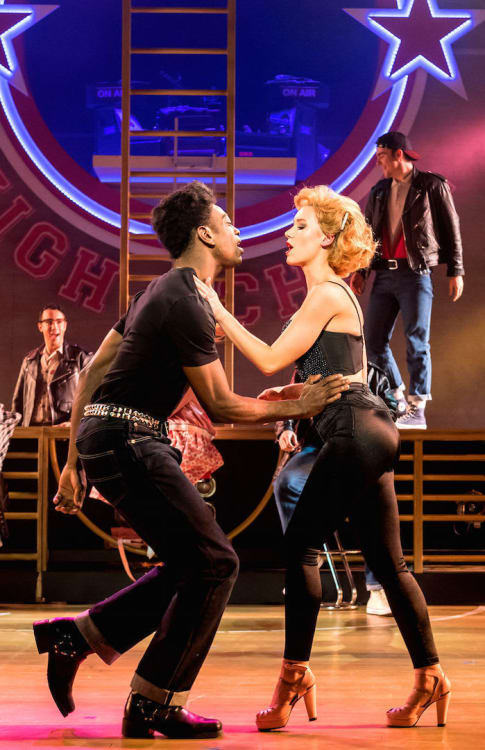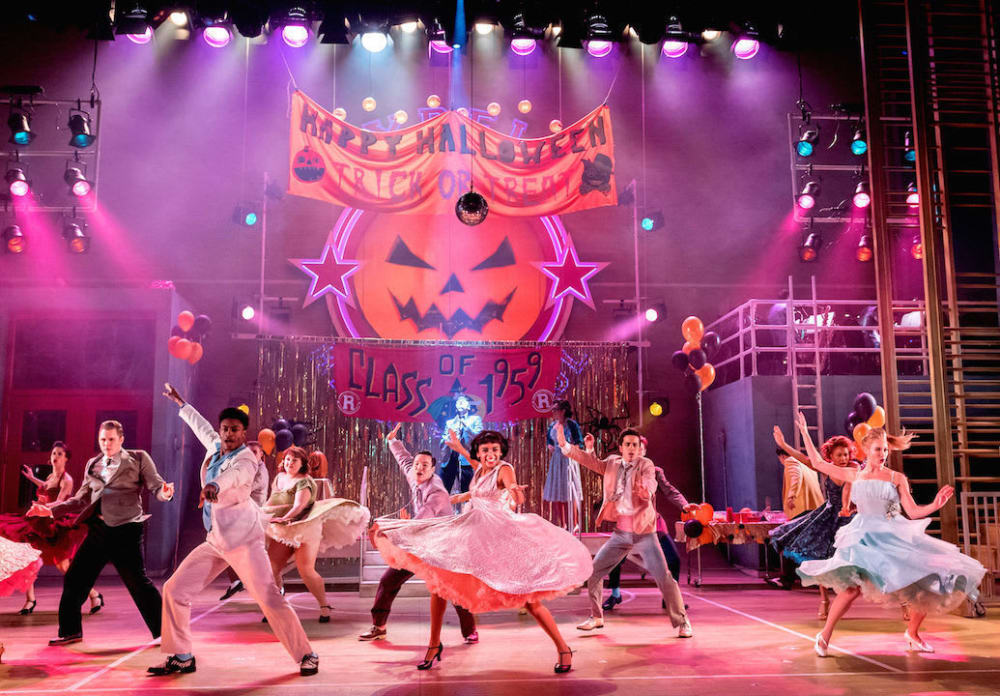 Staging a production of cinema's highest grossing musical (ever), groaning with well-loved songs and characters virtually synonymous with their movie star actors, is a brave enterprise. But Nikolai Foster has grasped that nettle, choosing Grease The Musical as Curve's main show for Christmas.
It's 1959 and America is teetering on the brink of the liberating forces of rock 'n' roll and sexual freedom, fuelled by breakouts of 'teen'. Tough guy Danny Zuko meets saintly Sandy Dumbrowski in the school holidays, there's some summer lovin', they part. Sandy then rocks up at Rydell High, Danny's high school no less, and so begins the dilemma of being true to yourself or cool in front of your mates. After much angst, and tired of being perfect little Sandra D, Sandy makes a Big Decision, sprays on her shiny, black trousers, puts her best chest forward and go gets her man.
Not exactly a contemporary, empowering message but this show is a nostalgia-trip for a time that was pre-free love, pre-Pill and when parents and teachers were, in the main, still obeyed. This is meant to be a fun show though, and the glut of great songs helps to lessen the rather questionable underlying sentiments; essentially you are either a good kid (a nerd) or a bad kid (cool).
But does the show go like greased lightening? Unfortunately, opening night felt somewhat subdued and in need of lubrication. Some of the longer periods of dialogue drag, particularly in act one, however, the main full cast numbers are well-executed, with an impressive opening "Grease is the Word", an energetic "Hand Jive" and the infectious fun of "We Go Together". The camp-ometer is set high and proud, particularly during Patrick Harper's stunning performance as Teen Angel in "Beauty School Drop Out", singing soulfully whilst hanging from the heavenly heights above the stage.
Djangela Scott as Rizzo is cynical and sassy, revealing her vulnerability during a powerful "There Are Worse Things I Could Do". Tensions between her and her beau Kenickie (Jonny Fines) sizzle.
However, while Dex Lee as Danny and Jessica Paul as Sandy are fantastic performers, their chemistry is more spark than full throttle. Danny could do with a bit of roughing up; hopefully this will develop during the show's long run but he needs more "swagger".
Foster has assembled a fine creative team with Nick Winston's choreography and Guy Hoare's lighting design all hitting their spots. Colin Richmond's stripped back design works well, using the full height of the hanger-like set in "Greased Lightning". Two gripes though—a row of fairy lights for a pimped-up car? And the lyrics are occasionally hard to make out—a combination of American accents and overpowering band.
Apart from TV-regular Shobna Gulati as Miss Lynch, Foster has ditched the "fill your show with soap stars" approach in favour of strong musical theatre performers who, overall, deliver.
This production of Grease The Musical is a competent, feel-good Christmas show with a killer soundtrack, but not (yet) firing on all cylinders.
Reviewer: Sally Jack