Grease the Musical
Jim Jacobs and Warren Casey
Colin Ingram for InTheatre, Donovan Mannato, William Sinclair, Hunter Arnold, Ricardo Marques and Araca
Leeds Grand Theatre
–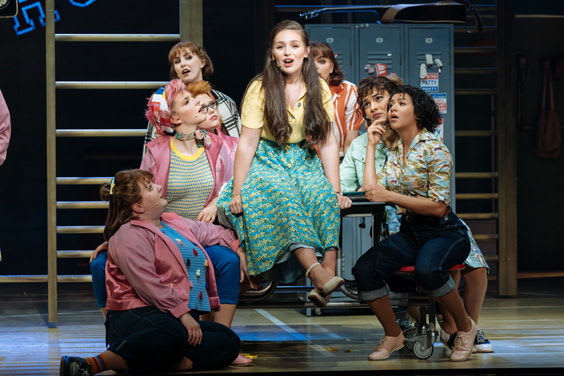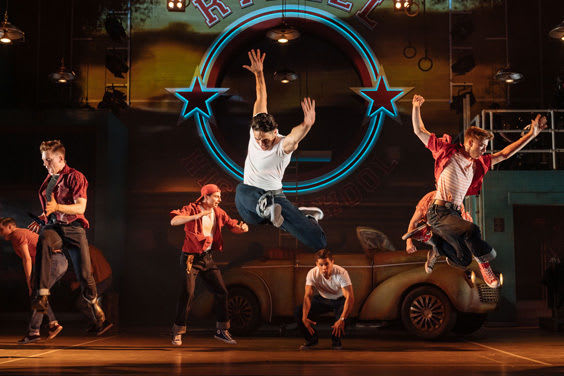 I must confess that I've never been a big fan of Grease. I find the film unspeakably naff, and my heart sinks whenever the medley gets played at weddings; I know, I'm a killjoy. However, this touring production, directed by Nikolai Foster, has forced me to reconsider my feelings by returning to the show's original vision of teenage angst in the 1950s.
If, like me, you have only ever seen the film, you might be surprised to learn that the original musical is set in working-class Chicago rather than sun-drenched California. I don't wish to overstate the rawness of this stage production—after all, it's still a shamelessly upbeat and energetic spectacle—but it's certainly less sanitized than the candyfloss film.
The evening got off to a strong start with a rousing version of "Grease is the Word". However, it soon became clear that there were technical issues with the sound, and the show was briefly halted. Part of me doubted whether the show would manage to regain its momentum after this, but I'm delighted to report that it did. That being said, there were a few occasions where the actors' voices were not adequately projected by their mics. Hopefully, these issues will be resolved for future performances.
Technical issues aside, Foster's staging of Grease is a resounding success. Nikolai Foster's direction is fluid yet bold and Arlene Phillips's choreography is dynamic, explosive and full of pizzazz. In a production full of standout moments, I was particularly struck by the "Hand Jive" sequence, where the students of Rydell High compete in a full-throttle dance contest. Special praise must also go to Colin Richmond's stunning set design.
Having watched the show, it occurs to me that my main issue with the film might lie in its casting choices. John Travolta is a charismatic actor, but his vocals aren't the best. Olivia Newton-John can belt out a tune, but her acting skills are negligible. The fact that several of the actors are much older than the characters they're playing (Stockard Channing, for example, was 33 when she played the part of 17-year-old Rizzo) doesn't help matters.
Thankfully, this production of Grease is superbly cast. Dan Partridge is terrific as Danny Zuko, projecting just the right amount of cocksure arrogance whilst hinting at self-doubt. He is matched by stage newcomer Martha Kirby, who sings beautifully as Sandy; her performance of "Hopelessly Devoted" is a knockout.
The production is stuffed with vibrant supporting turns. Rhianne-Louise McCaulsky is delightfully sharp as Rizzo, whose cynical exterior hides a deep-seated insecurity. These feelings are powerfully conveyed in her storming rendition of "There Are Worse Things I Could Do". Louis Gaunt impresses as Kenickie, Rizzo's on-again-off-again beau, particularly during a gymnastic version of "Greased Lightning". Finally, Peter Andre makes a spectacular and hilarious cameo appearance as Teen Angel, reducing the audience to a quivering jelly.
Overall, this is an electrifying production that I would heartily recommend to all musical theatre fans.
Reviewer: James Ballands