Grease The Musical
Book, music & lyrics by Jim Jacobs & Warren Casey; choreography by Arlene Phillips
The Lyric, Theatre Royal Plymouth
–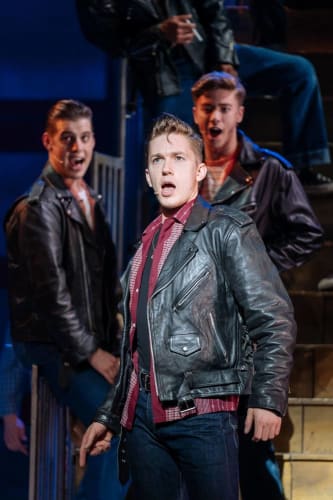 Seems you need to be faster than greased lightning to grab a ticket for the touring revival of the perennial favourite Grease which is selling out across the UK.
We all know the film but this is its predecessor: the leather-clad teens are the Burger Palace Boys and there are additional songs alongside the eagerly anticipated "Summer Nights", "Greased Lightnin'", "Beauty School Drop Out", "Hopelessly Devoted to You" and "You're the One That I Want" but the morals are as dodgy and misogyny is rampant. It is more gritty and dark than the Hollywood version but unfortunately somewhat stilted and episodic.
Arlene Phillips's new choreography is fresh and vibrant—particularly at the high school hop where guest star and major draw (in on only certain selected dates) Peter Andre as Vince Fontaine (and Teen Angel) further stamps his professional mark on proceedings and hams it up for an adoring auditorium exuding plenty of pizazz. Worth the ticket price alone.
On press night, Laura-Jane Fenney stepped up from swing and assistant dance captain to Sandy at the last minute—and was excellent, although her transition from sweet girl-next-door to vamp was somewhat sudden—and Hannah Faith Marram took on Patty Simcox most convincingly.
Fenney's harmonies with Dan Partridge (whose range is impressive) as penny-pitching champ and peer-pressured Danny work well although the chemistry between them falls somewhat flat.
Tendai Rinomhota is nicely abrasive as Rizzo, Marianna Neofitou makes a ditzy Frenchy while Paul French is beautifully brooding as lech Kenickie.
There is plenty of raw talent on show with some 22 very competent belters and hoofers, but Josh Barnett as Roger eclipses with crowd-pleaser "Mooning Over You".
The unnamed musicians in the pit are a joy but the balance could be wound back a tad as some of the lyrics are lost.
Delivers exactly what the audience is looking for and the medley encore guarantees everyone on their feet joining in.
Reviewer: Karen Bussell