Grease
Jim Jacobs and Warren Casey
Theatre Royal, Newcastle, and touring
(2005)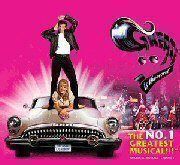 After all these years, cliché it may be, but Grease is still most definitely the one that they want, judging by last night's audience.
Even before curtain up - and a rather splendid new curtain it is, depicting Grey Street in all its majesty - on this, the Theatre Royal's opening night after its three-month closure during its major revamp, the audience seemed well in the mood.
The humming and toe-tapping seemed to be well underway as the orchestra were tuning up, and there were a fair few 'pink ladies' in the sell-out audience.
The opening medley of hits by the Teddy Boy orchestra, decked out in pink jackets, and playing on a raised platform above the stage, made for a stonking start to the show. As did "Grease is the Word", our first show-stopping glimpse of the cast.
The story needs little introduction: it's a classic tale of boy meets girl, set against a 50s Americana backdrop.
Danny Zuko, leader of the T-birds, is the sexy, high school heart-throb. He's afraid to show his real feelings for the new girl in town, the wholesome, sweet-natured Sandy, for fear of the taunts from his mates.
In this production by Paul Nicholas and David Ian, Danny is played by Australian Jarrod Carland, a trained opera singer. He's very good but his singing is almost too good for the part. It's almost a struggle for Jarrod to hold back that hugely powerful voice at times, forcing his voice to jar a little during some of the hits.
Popstars finalist Hayley Evetts plays Sandy and carries it off with some style. In the same production on tour in Sunderland last year her part was played by an understudy on the opening night due to illness. So it was good to see Hayley in the role. She has the most wonderful voice and is utterly credible.
There were other notable performances from a very deep-voiced Rizzo, played by a polished Deborah Hayward, and Jason Capewell as Vince Fontaine was hammily captivating.
Emma-Jay Hurst as Frenchy was likeable and believable while Hugo Harold-Harrison as Eugene played it for laughs, and displayed brilliant comic timing.
This being a musical the music obviously welds the whole thing together. But I did find myself longing for the next song, as the acting is a little strained in parts and some of the supporting cast and dancers looked nervous. But that could just be a case of first-night nerves.
A point to remember if you're taking children, this stage version is certainly raunchier than I remember the film being and some of the innuendo is rather in-your-face. Fine for an adult audience, but a little discomfiting for parents taking the kids along.
Reviewer: Katharine Capocci