Great Britons of Stage and Screen Volume II: Directors in Conversation
Barbara Roisman Cooper
BearManor Media
Released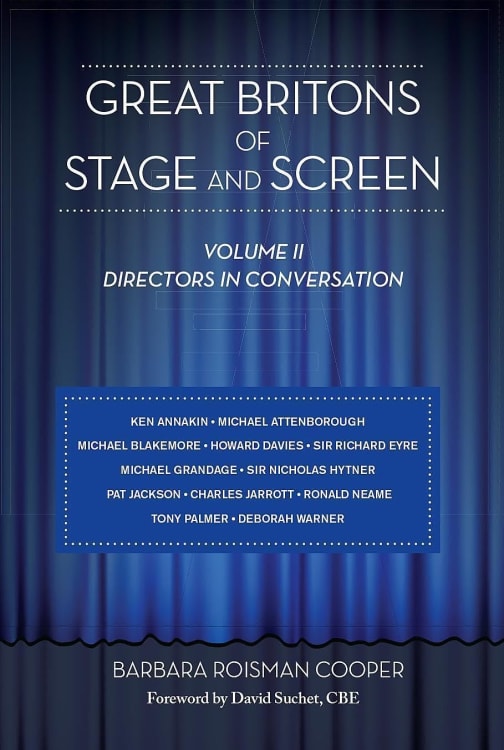 Nearly five years on from volume I, Barbara Roisman Cooper has produced the sequel that I predicted in my review of that earlier book, but this time focussing on directors rather than actors.
The range of subjects—all leading figures in either stage or cinema—in terms of time period is similarly impressive, from directors such as Ronald Neame, who worked in silent cinema and in fact on England's first 'talkie' nearly a hundred years ago, right up to directors still working today, such as Deborah Warner. It takes in two former directors of the National Theatre—Richard Eyre and Nicholas Hytner—plus some who have directed regularly in that South Bank building, such as Howard Davies and Michael Blakemore, and former heads of the Almeida and the Donmar Warehouse Michael Attenborough and Michael Grandage.
If that isn't impressive enough as a cast list (not mentioned above are Ken Annakin, Pat Jackson, Charles Jarrott and Tony Palmer), there is a foreword by David Suchet and inserted comments from many other famous names such as Angela Lansbury, Matthew Bourne, Derek Jacobi, Alfred Molina, Alec Guinness, Glynis Johns, John Mills, Jack Klugman, Shelley Winters and other actors, script supervisors, choreographers, designers etc. The author must have quite an impressive address book.
Each chapter takes the same format as in volume I, beginning with a brief introduction to the director and the venue for the interview before the interview itself in the form of a dialogue, complete with a few stage directions for significant gestures. There are occasional interruptions to this from others that elaborate on a particular story or production or sometimes dispute the facts as told by the subject. For those no longer with us, there is a brief note at the end to say when they died, followed by a list of "selected credits, nominations and honors" and some endnotes for the chapter.
The author manages to seem almost invisible in the interviews while still getting her subjects to reveal a great deal about their careers; she had clearly carried out extensive research before meeting each of them. It adds up to an interesting overview of directing in theatre and film on both sides of the Atlantic for most of the twentieth and early twenty-first centuries, albeit a selective history with nothing that is bang up-to-the minute contemporary, and looks at the details of the craft of directing and how it has evolved over the last hundred years.
I would have liked each chapter to mention when the interview took place to make it easier to place the information in a historical context, as the directors talk about the work they are doing 'now' but it isn't always easy to guess when 'now' is—some have been dead for a decade or more. I did spot one or two factual errors, although nothing major—for instance, the forerunner of the Bruntwood Prize for Playwriting at the Royal Exchange Theatre was the Mobil Playwriting Competition, sponsored by oil company Mobil, not the "Mobile Theatre Award".
However, I'm being picky, as the occasional error is more than made up for by a wealth of information, much of which may not be available elsewhere, told first-hand by those who were present when some great innovations were taking place in the stage and screen arts and in many cases were instrumental in bringing them about.
This is a handy book to have on the bookshelf for both enthusiasts and students of film and theatre. It's the sort of book that you can either read from cover to cover or dip into at random from time to time, but either way I'm sure you will find it entertaining and informative, and a perfect companion to volume I.
Reviewer: David Chadderton