Great Expectations
Charles Dickens adapted by Lydia Vie
Theatre Lab Company
Playground Theatre
–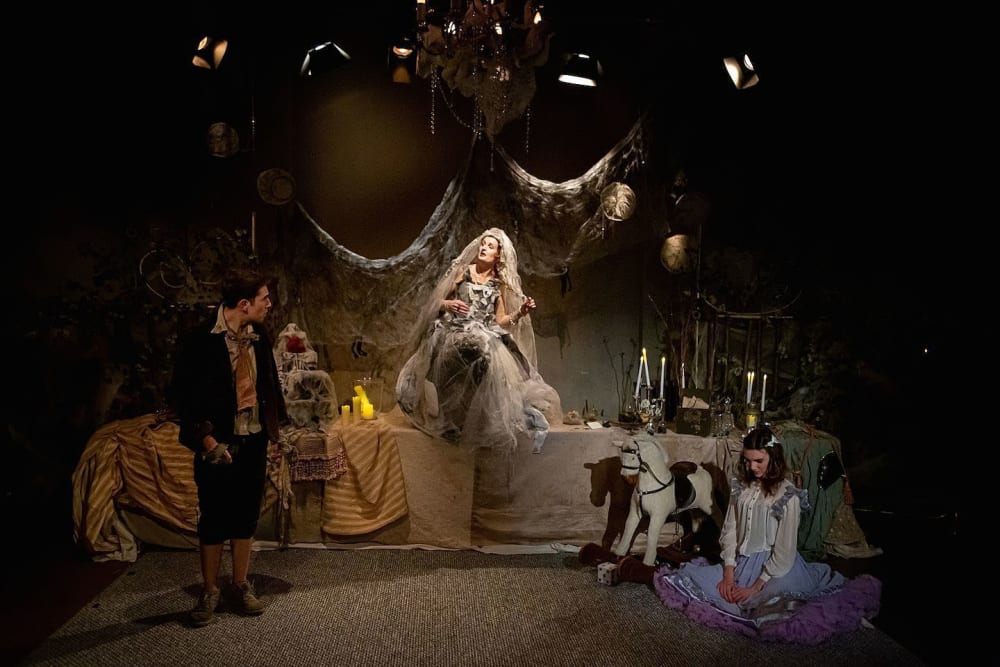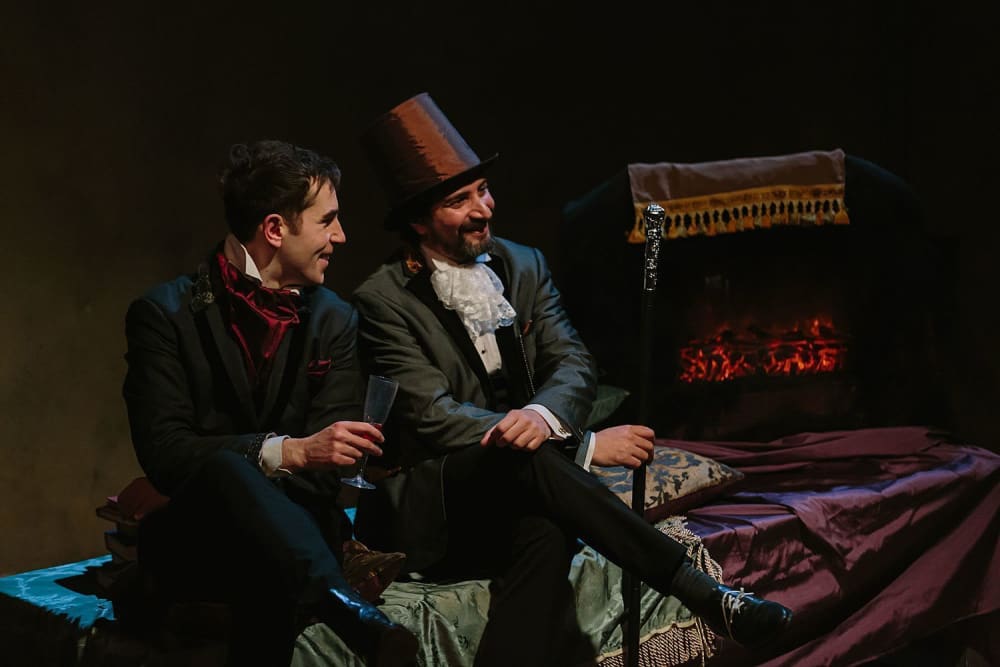 This adaptation of Charles Dickens's novel looks like a Christmas decoration for the Playground Theatre. In a splendidly atmospheric setting, designer Eirini Kariori places a plethora of candles around the decaying remains of jilted Miss Havisham's wedding celebration, untouched since that day when time stopped for her.
Chuma Emembolu's lighting and the skilful use of music and the sound of ticking clocks all add to the mood and the formality of Anastasia Revi's production makes it easy to play directly to the audience.
Helen Bang's Miss Havisham is there in the centre of the table looking like her own cobweb-covered wedding cake. Vie's adaptation trims away most of the detail to make this very much the story of that lady and Pip, the rough local boy she invites to grand Satis House to play with her adopted daughter Estella. Pip later believes, wrongly, that she is the benefactor who funds his becoming a gentleman, when in fact it is former convict Magwitch to whom he showed kindness when a small boy.
Embittered Miss Havisham has brought up Estella to be cold and heartless, attracting men so as to break their hearts. Little orphan Pip is the first of them. Denise Moreno looks lovely but with a voice appropriately icy, herself declares her heartlessness and the insertion of Einstürzende Neubaten's song "The Garden" as a duet for Pip and Estella works beautifully to show how successfully she ensnares his affection.
As Pip's fortunes change and he rises in status, he becomes just as self-centred but still spellbound by her. He changes from an innocent and awkward young lad to a grown-up Pip who looks down on his generous-hearted blacksmith brother-in-law, Joe Gargery, played with great warmth by Matthew Wade.
He's a prig, this adult Pip, though his attempt to master table manners and cutlery under the guidance of Miss Havisham's nephew Herbert Pocket has allowed us to laugh at him. Samuel Lawrence manages the changes adroitly but gives him enough charm to make us believe (and rightly) that later he will learn to treat people better.
Shaun Amos's Pocket looks and behaves as though he has stepped right out of the book. Is it an original illustration or Alec Guinness's portrayal of which he so reminds me? He and David Furlong's Jaggers, the lawyer go-between who delivers Pip's good luck are the considerate and friendly face of business.
Revi's production shows the lower class through the opening scenes with Pip's rags, his short-tempered sister shouting her head off and Magwitch fighting another convict in a confusion that isn't easy to follow, literally side stories placed to left and right of dominant Miss Havisham.
This isn't Dickens showing his social conscience but a tale that contrasts revenge and ingratitude with good human values. Peter Rae gives Magwitch presence but the character's humbleness now seems excessive, especially when matched by Pip's arrogance, but with the emphasis on Pip and Stella there is no chance to explore other characters.
The incidents that ensue after the re-arrest of Magwitch and the changes they bring for Pip are so compactly presented they may not be clear to those who don't know the story. The reformed Pip's final rapprochement with Estella deliberately doesn't provide closure (Dickens actually wrote two versions) but there is no false happy ending.
Theatre Lab Productions always creates a powerful image and Miss Havisham among her wedding feast will stay with me. When she drops a candle and her dress catches fire, they lack the budget to burn the whole place down but instead spark the imagination. This is a long way from being the complete Great Expectations. It focuses on Miss Havisham's scheming, but it becomes an intriguing alternative to most of the Yuletide theatre fare and you'll find a few internal references to fit it into the season.
Reviewer: Howard Loxton