Great Pretenders
Original Music & Lyrics by Neil Harrison, book by Simon Jermond & Neil Harrison
Upstairs at the Gatehouse
(2009)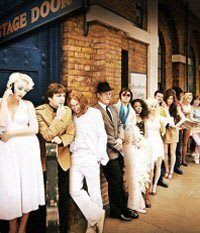 In the dressing room of a theatre a hopeful group of 'tribute' artistes wait to audition for a Las Vegas transfer of a 'tribute' show.
Jack Daniel's swigging, Irish Liam (Luke Jasztal) really does look rather like John Lennon and hip-swivelling, shoulder smooching, rather bloated Scottie Andy (David Higgins) is obviously doing the older Elvis. With wigs and the right costumes raven-haired Paula (Rebecca Bainbridge), an old hand at the game, and relative newcomer Joyce (Jennifer Saayeng) are very passable versions of Marilyn and Beyoncé but who's the hunky PJ (Leon Kay), concentrating on martial arts and relaxation exercises, going to be? and what about spoiled brat Kat (Crystal van Lloy) who thinks she's far too good to share a dressing room with the rest of them?
Like the audition scenario of A Chorus Line, this is a way of getting a group of people together to expose a little of their personalities and discover some of their back stories. One pair turns out to be an old affair and their relationship is the centre of the plotting and there is a nice contrast between the jaded well-established acts who are beginning to get past it and tyro lack-talent. There is an underlying theme of being true to yourself instead of trying to borrow confidence and status through impersonation, there is a neat twist with one character that offers impersonation as one way of liberating true personality.
There are naturally some of the original artists' well-known numbers and new songs by Neil Harrison who rhymes macho with gazpacho and has that lucky skill of writing new tunes that sound familiar and are immediately appealing and there is lively choreography by Racky Plews appropriate to these imitation stars - especially in a tango number where Andy and Paula recapture their old romance.
Though one number welcomes the audience to their 'wacky world' and the show is always entertaining it's certainly not 'happy-clappy.' Audition stage manager Bibi (Susan Raasay) leads a number that is only the most obvious element of an underlying female criticism of male inadequacy. In a darker song a former squaddie has an anti-war number describing the shooting of his mate beside him in Afghanistan. On a lighter note anyone trying to give up smoking, like Paula, will pick up on 'there is no such thing as just one cigarette.' (Asked if she's tried a nicotine patch she says 'they only work if I stick them over my mouth!') and it is typical of wannabe Kat that as she storms out saying 'I've just got time for my vocal warm-up', she's also reaching for a fag.
There is a rigorously retro look about Gemma Harris' tired dressing room design, packed with a resident shows clutter, and Stephie Hoyle has dressed the cast with a nice contrast between stage glamour and everyday. It is not a show that dazzles (apart perhaps from Beyoncé's frock and wig), concentrating on heart rather than production values and production numbers, but the company deliver it with sensitivity and a gusto that makes it an audience pleaser: for all its serious side, it leaves them with a lift.
Until 15th November 2009
Reviewer: Howard Loxton