Greenwash
David Lewis
Orange Tree Theatre, Richmond
(2009)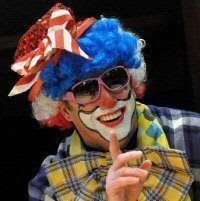 Greenwash - green whitewashing, commercial or political spin to suggest a green agenda when there is none - describes exactly what this play is about. We are in a penthouse apartment with a view over New York's Central Park with the laundrymen. Owner Alan (Jonathan Guy Lewis) is a hygiene freak - no shoes on is beautifully clean parquet, children's cuddly toys put in the washing machine and then the freezer to kill off mites but not so fastidious in his working life as spin doctor for a politician and now for a big name oil company under the guise of an organisation calling itself the American Conservation Commission.
A couple of floors below lives Nancy (Amanda Royle), ultra-chic director of that company, a dyed-in-the-wool Republican whose family bankrolled her now-estranged husband Charlie (Stephen Beckett) as a former Presidential hopeful. Alan used to be Charlie's PR and has the hots for Charlie's sister Grace (Carolyn Backhouse), who is in contrast a genuine active environmentalist, so he's using the ACC as his own greenwash.
Alan, Grace and journalist and former PR Michael (Richard Attlee), whose hair-piece hides a phobia about his baldness, and Michael's wife (Miranda Foster) are concerned about Charlie's drinking. They've brought in a therapist, Wanda (Joy Richardson), to set up what they call an 'intervention' to get Charlie to face up to it and get help
You're right! It does get pretty complicated - and the first part of the play takes far too long in setting all this up, but the wait is worth it for this play offers us a graphic demonstration of the callousness of politicians and big business and, in one scene in particular, a dramatic demonstration of the way spin works when revelations about lies told in launching the Iraq war create a desperate situation that these people try to defuse with yet more lying spin.
Setting the play among all these right-wingers makes it all the more effective. The dysfunctional complexity of their private lives provides much of the humour but they are caught in the rat race trying to survive at the level they are used to. Ironically Lewis gives some of the strongest statements about the need for truth to extreme 'patriot' Nancy.
A warning quoted from Republican President Eisenhower against the growing power of the military and a reminder that when preparing to go to war in Iraq Bush talked to Blair calling it Operation Iraq Liberation (OIL) before the PRs realised their error and renamed it Operation Iraq Freedom give you some of the ground this play covers. Lewis is quite a phrase-monger himself with his PRs declaring that 'Democracy is the freedom to persuade' then 'You need PR to protect corporate power from democracy - that's modern politics!'. In places this script could use some tightening: scenes go on after they've made their point. It is full of full-blooded lively argument.
Director Sam Walters gets lively performances from all his cast and Sam Dowson has given it an elegant setting, providing a stimulating evening of politics and humour.
Until 21st March
Reviewer: Howard Loxton