Grey Gardens
Book by Doug Wright, music by Scott Frankel, lyrics by Michael Korie
Danielle Tarento
Southwark Playhouse (The Large)
–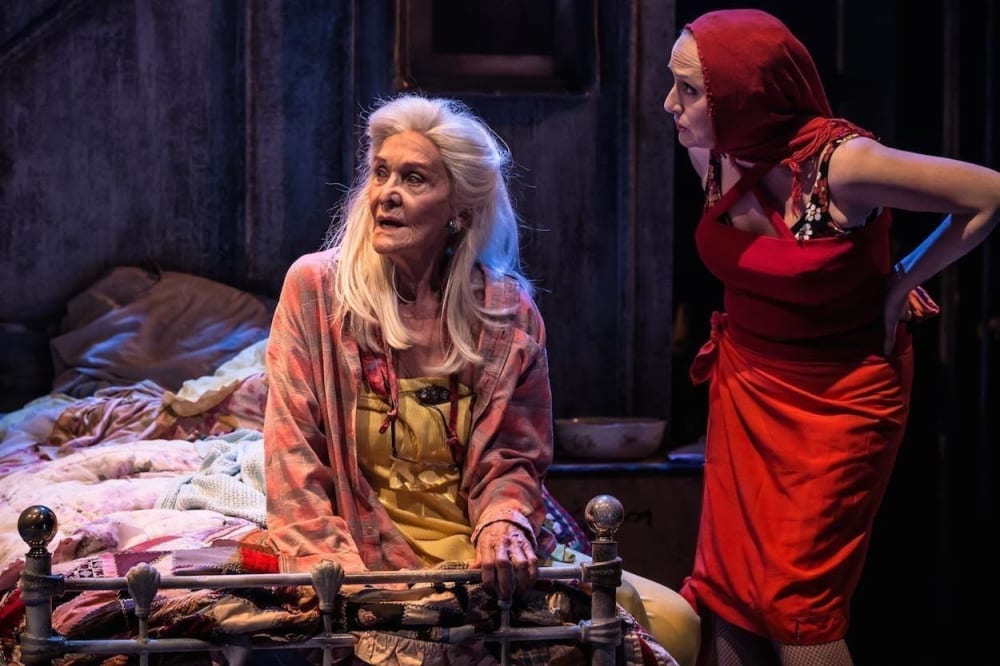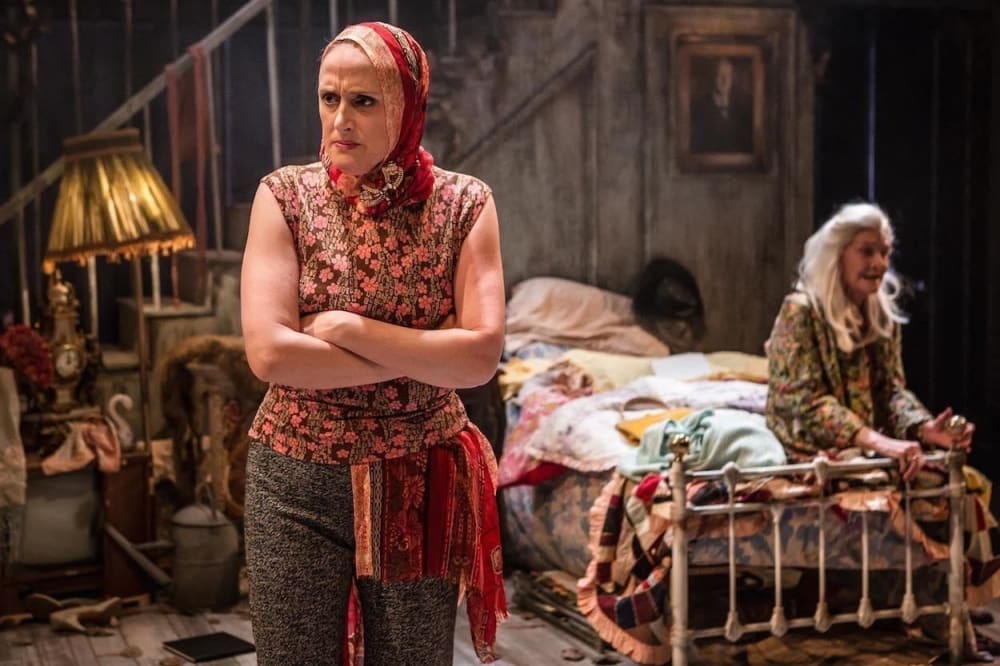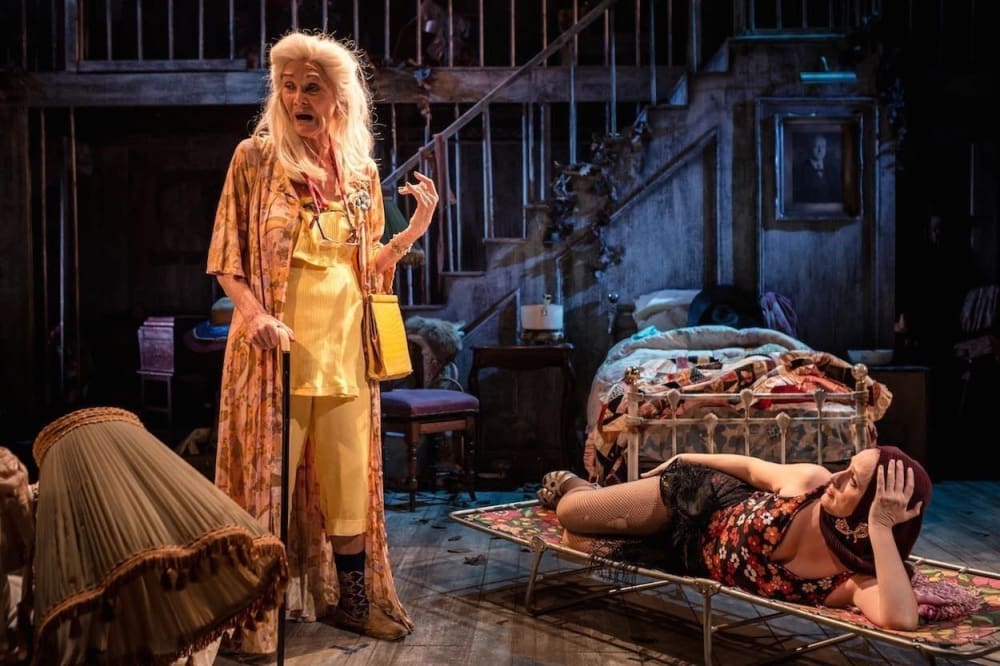 Grey Gardens is a multi-roomed mansion in the fashionable Hamptons. In the 1970s, it was home to a reclusive mother and daughter and 52 cats who had lived there in a state so squalid that the local health department called it "unfit for human habitation".
So much we learn from a radio announcer's voice, but who are these people, seen briefly in a prologue before being replaced by their younger selves? The world heard about them when Albert and David Maysles made a documentary film about them, acknowledged as the source upon which this Tony Award-winning musical is based.
Edith Beale and her daughter, also Edith, both had aspirations as professional singers, which didn't fit too well with their family's position in high society. They'd lived there since 1924, when Big Edie's husband Phelan Beale bought Grey Gardens. Phelan had formed a law practice and married his partner's daughter. Her name was Bouvier. Yes, those Bouviers: Big Edie was Jackie Kennedy's auntie.
The brief prologue shows them in 1973 before replacing them with their younger selves in a fictionalised first act that puts back the clock to 1941 and a party to announce young Edie's engagement to Joe, a young officer who is the first-born son of Joseph Kennedy senior and JFK's elder brother.
This imagined event, a picture of their hedonistic life style, sews seeds that may explain later eccentricities. There's a performance planned to entertain their visitors. Big Edie (Jenna Russell) has a repertoire that ranges from opera (her husband objected to her being Butterfly because she was a prostitute) to black minstrel songs (which upset her father).
She is trying out numbers with her live-in pianist George, a Tintin-tufted Jeremy Legat bubbling with energy, with whom she seems in camp cahoots. Rachel Anne Rayham plays her daughter, blonde and petite in pink and putting on a performance as proper miss "daddy's girl" that's captured Aaron Sidwell's handsome Joe as well as papa.
As they knock back the liquor and a juvenile Jacqueline and Lee Bouvier run riot around them, Big Edie talks a little too freely—especially about how her daughter came to be known as "Body Beautiful Beale"—and just when things seem set up for the future they start to cave in. Meanwhile, however, there have been a dozen numbers that capture the style of the popular music of the time and fit character precisely.
Factual act two, based on the documentary and taking some of its dialogue directly from it, shows a very different 1973 situation.
Young Edie did try to make a career as a model and performer but now, aged 56 and back at Grey Gardens, she seems almost as eccentric as her 78-year-old mother, now almost entirely retired to her bedroom. Moaning about this "mean, nasty Republican town," resenting present life and past failure, she goes around head covered in a cardigan, clothes punk safety-pinned. "You look awful," mother tells daughter.
With Jenna Russell now daughter Edie and a white-haired Sheila Hancock, sharp-eyes making instant audience contact, brilliantly playing her mother, this is a beautiful bickering double act. There is a cabaret-like directness in the playing that sharpens every remark while always in character and situation. The words are often the women's own but book and lyrics match them.
Which of them says, "it's very difficult to keep a line between the past and the present"? Neither seems to manage it and this is given perfect theatrical expression in Thom Southerland's production as the stage is populated with cats being fed and they appear like the ghosts and memories of all those encountered in the first act.
With these performers, the character dominates the number however well delivered.
With Billy Boyle as Major Bouvier, Ako Mitchell as a gentle black houseboy and then his gardener son, a curly-haired double from Aaron Sidwell as '70s live-in odd-job lad Jerry and lively youngsters Grace Jenkins and Alana Hinge as the Bouvier nieces (sharing roles with Eleanor Waldron and Rebecca Nardin), this is a strong company with a great band under Michael Bradley's baton.
Sound though is a problem, at least where I was, behind much of the action: partly the acoustics in this configuration, partly the amplification. It's not just old ears; youngsters beside me also had a problem. We lost too many of Korie's witty lyrics and, when backs were towards us, some quieter dialogue.
Reviewer: Howard Loxton