Grey Matter, E2 7SD, Killer Pig

Rambert2
G Live, Guildford
–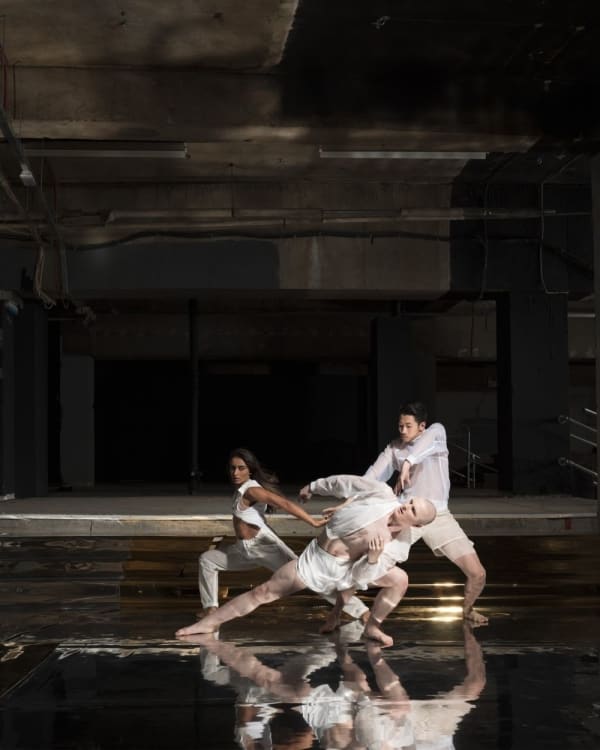 800 dancers applied for a spot in Rambert2, a youthful sister company to Britain's oldest dance troupe. From that wide pool, 13 were selected—and it seems Rambert2 got the pick of the crop.
Each individual dancer displays huge strength and stamina alongside great technical finesse. Even more impressively, this fledgling company already moves as a well-oiled machine. When the dancers work in unison, their physical language matches one another beautifully, able to unite not just in rhythm but with their whole being.
This lends itself well to the first piece of this evening's triple bill, Grey Matter, choreography by Benoit Swan Pouffer, Rambert's newly appointed Artistic Director. We meet the whole troupe, clad in variations of white translucent scrubs, some splattered blood red. In dramatic, moody lighting, the choreography unfurls to an unnerving soundscape, later giving way to a pulsing electronic beat.
Pouffer's choreography plays with group dynamics. Frenetic dancers move as individuals, playing with tempi: jerky, jagged precision yields to moments of slow physical unfurling. Similarly, the group suddenly coalesce: a threatening unit one moment, then an elastic team, stretching and swaying with mesmerising control.
The second piece, E2 7SD, is a duet performed to a vocal soundscape by Oswaldo Maciá. The programme states that Rafael Bonachela's choreography "was conceived as a performance and sound sculpture of an emotionally charged landscape".
This is certainly an emotionally charged performance. Dancers Aishwarya and Conor Kerrigan create large shapes: glorious leg extensions with wide-flung arms. Their interactions feel violently passionate. Lee Curran's striking lighting design suddenly bursts into a star of yellow light shining into the audience, in its heart the dancers still performing with white-hot intensity.
Although there are many moments of exciting choreography (particularly the intermingling of twisting limbs in the pas de deux), as a whole piece it's less satisfying. The dance is delivered in rapid bursts of stuttering movement, constantly peppered with pauses in tempi which leave you longing for development into a longer movement phrase.
Grey Matter provoked my companion and me to read into it a million different storylines—with very few connected to the inspiration behind the original composition. In comparison, E2 7SD is harder to get a handle on, harder to derive an overall idea from the fearless performance onstage.
The final piece, Killer Pig (choreography by Sharon Eyal and Gai Behar), is a triumphant climax to the evening. Eight mannequins strut to a club beat, their bodies contorted to appear alien yet seductive. Clad in nude bodysuits, it is hard to differentiate the dancers' gender. So well assimilated is the physical language that the troupe become members of the same race.
With a trancelike, pulsing soundtrack, the dancers thrust shoulders and rise onto tiptoes, parading around the stage. The choreography calls for popping and locking one moment, the next demanding intricate petit allegro footwork. The true dexterity of the Rambert2 dancers is apparent.
At 50 minutes, Killer Pig is quite a marathon, trying both the audience and dancers' stamina.
An interesting collection of pieces shows the incredible strength of this new troupe. With Benoit Swan Pouffer newly at Rambert's helm, and determined to push the company into the spotlight, I'm on tenterhooks to see what Rambert2 tackles next.
Reviewer: Louise Lewis