Grigorovich Nutcracker
The Chisinau National Ballet
Ellen Kent & Ballet International
Sunderland Empire
(2008)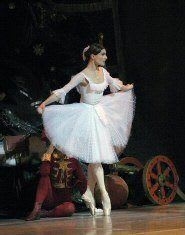 As sweet and as magical as the Sugar Plum Fairy herself, this charming performance was the perfect way to forget about a pretty horrendous day. Immediately drawn into Grigorovich's effortlessly elegant adaptation of this timeless ballet, all my stress and anxiety began to mellow.
Taking Hoffman's tale back to its roots without losing any of the spectacle, it opened to a stunning first act with a backdrop to match. A classic Christmas story about the young Marie swept away to a magical dream world, it was refreshing to see it performed during a season widely associated with anticlimax, letting you relive the festive sparkle, even if just for a few short hours. The second act was as breathtaking as the first, from the moment it began with a magical flying boat to the mesmorising performances of the divine Kristina and Alexei Terentiev as Marie and the Nutcracker Prince.
The series of victory dances by the dolls was also a highlight, boasting the majority of Tchaikovsky's best-known music - Dance of the Sugar Plum Fairy and Waltz of the Flowers. But the scene did include some weak moments from the male Indian doll.
One of the most remarkable and unusual performances came from Kristina Surucheanu, who was extraordinarily convincing as the nutcracker doll. Carried on to the stage by a guest arriving at the Stahlbaum's Christmas party, the audience was taken aback as it came to life but still moving and looking almost exactly like a doll.
Mention must also be made of the Orchestra of the Chisinau National Ballet for a magnificent performance of Tchaikovsky's wonderful score.
Reviewer: Emily Taylor