Groan Ups
Henry Lewis, Jonathan Sayer and Henry Shields
Mischief Theatre
Mayflower Theatre, Southampton
–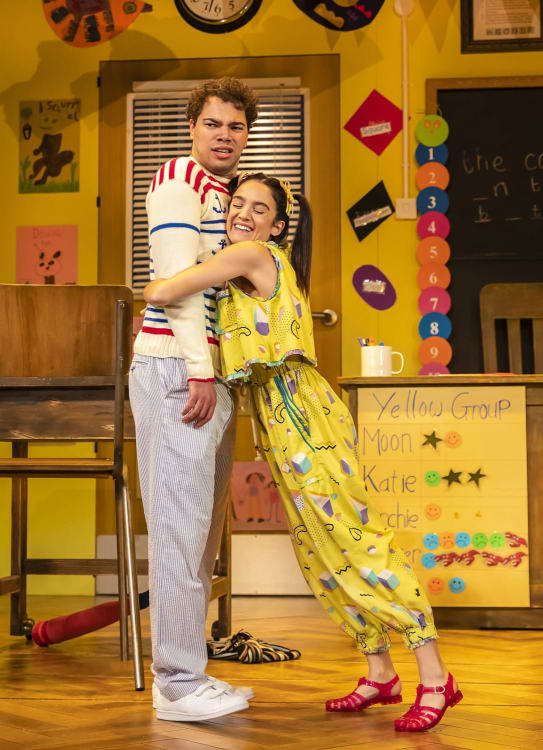 Anyone expecting to see Mischief Theatre's usual comic 'goes wrong' madcap style may be disappointed with Groan Ups. It's not that this performance isn't funny—it is, particularly in the first act. It's more that this show poses more questions about life in general than other Mischief performances. It is a courageous decision to try something new after the format of the other shows have proven to be so successful.
There are those that will argue that this set-up of adults playing children is an old format rehashed, with Potter's Blue Remembered Hills or Russell's Blood Brothers getting there first. For me, this is not an issue as writers Henry Lewis, Jonathan Sayer and Henry Shields have managed to interweave these elements into their own take on what it means to 'grow up'.
There are similarities from the aforementioned classics, with younger children being cruel to each other and teenage embarrassment mixed in for good measure but there is a certain autonomy to this show that keeps you engaged throughout. Yes, we have worked out where the plot is going fairly on in the evening, but the quality of the performance itself and our investment in the characters keep us engaged throughout.
Despite my assertion that this is not pure Mischief Theatre, there are elements that are recognisable. The farcical slapstick in the final act in particular stands out with hilarious consequences as the class pet falls victim on multiple occasions. Consistently throughout the performance and in keeping with Mischief's previous shows, there is a clever use of wordplay that is typified by Jamie Birkett who almost steals the show with her cameo as Chemise. The repeated over-the-top actress speech is brilliantly played out and her struggle with the word "entrepreneur" is a particular high point.
This is a very strong cast indeed and there is not a weak link, even in those playing the small roles with Killian Macardle conveying the energetic but very irritating Paul. The leading quintet (whose story we follow) are excellent throughout. In particular, I was impressed with the way that each performer retained an element of their character, whether this be through their personality or a small physical tick or movement.
Dharmesh Patel as the rebellious Spencer seems to turn back into being a 6-year-old when trying to atone for his heavy-handedness in the final act. Lauren Samuels's driven Katie is highly recognisable when she returns as an older version of her over-achieving self. Daniel Abbott is sweet and likeable as Archie, despite his misdemeanours, whilst Yolande Ovide's Moon is a confident and sassy teenager. Mischief regular Matt Cavendish is fabulously entertaining as Simon at all ages and his interactions with Birkett's Chemise stand out. All of the principle cast create characters and relationships that we care for as an audience and this is a real achievement, especially given the comic style of the piece.
This performance brought a joyful response from the Southampton Mayflower theatre audience with many standing to applaud this hard-working, talented cast. The show will play at the Mayflower until Saturday 22 January before following other Mischief successes and touring nationally. Despite the prior negative responses that this show has had, I would recommend it wholeheartedly. Though the characters are certainly not developed in any Chekhovian depth, there is enough in the production for a connection to be made. Besides, this is not Chekhov or Ibsen, and nor does it claim to be.
Reviewer: John Johnson