The Grouch
Adapted from Molière's The Misanthrope by Ranjit Bolt
West Yorkshire Playhouse
(2008)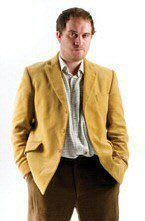 This is not an enjoyable experience. Updating classics is always dodgy. How up to date should you get? If you're right on the contemporary cultural button, you'll be way out of date by the end of the run. In this case the text is full of anachronisms, its scatter gun approach never quite leaving the seventeenth century, never quite hitting the twenty first, mainly rooted in the nineteen eighties. After a while the stunned audience began to titter as they caught words like 'Blair', 'Television' and, a risky one in this context, 'crock of shit'.
I saw it in preview, so some of the problems will doubtless be solved. But the problem that cannot be overcome is the script. This is way below average rhyming. Characters and the fragmented, ill-conceived plots and subplots are dragged hither and thither by the ever present, and rarely satisfied, need to find a good rhyme. So the characters have no emotional or psychological consistency. Nor does the script, it's like a prolonged Two Ronnies sketch... on a bad night. At one point the words 'mad about the girl' are used and one's brain is freed for a moment to remember the sheer bliss of the Master's rhyming. Then back to the painful present.
The music is good, the cast work hard, wardrobe is overworked but good, and the set is glorious - fantastic cerise sofas and heavenly heavenward white spiral staircase. But the whole is dull.
Reviewer: Ray Brown