Grumpy Old Women 2 : Chin Up Britain
Jenny Eclair and Judith Holder
Novello Theatre
(2010)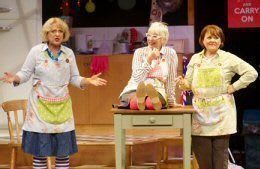 "Women didn't evolve - we didn't have the f**king time," states Jenny Eclair to raptuous applause. Grumpy Old Women has landed at the Novello after a 60 date sell-out tour and, from the laughter ringing around the auditorium, they seem to have hit the spot.
Set in a Kath Kidson-esque kitchen with beanbags, rocking chair and fridge full of white wine, this is definitely not the television series. The props may be cosy but the script goes far beyond anything that would air in the co-written script by Eclair and Judith Holder. No topic is safe from these grumps, including the menopause, tampons, teenagers and Tim Henman. Eclair in particular relishes pushing the audience right up to their comfort zone without forcing her way into it.
Susie Blake and Wendi Peters make up the rest of this energetic trio and the interaction between the three is genuinely fun to watch. At times the fact that this is tightly scripted does put restraints on potential comedy but they excel when the occasional mistake occurs or an audience member makes an unexpected noise. This restraint is due to the difference in performance style, Blake and Peters are excellent performers and clearly shine when the creating the oddball characters littered across the script. Eclair however, perhaps as a writer or perhaps as a comedian, does at times appear to want to go off on a tangent and really feed off the reactions of the audience with unscripted comments.
This is a minor quibble though as there are plenty of jokes, observations and moments of physical comedy to allow the pace to be fast and furious. These grumps host an indoor gymkhana, parody Madonna, use a kitchen table as a catwalk to demonstrate their homemade wares and declare the theatre part of a fart amnesty. I particularly enjoyed their second curtain call in which they mimic the Red Arrows (best left to the imagination!). They have no real enemies other than time and men who snore but all of the jibes are made with affection and a chuckle.
This is a show that is obviously aimed at women of a certain age but there are moments in this that would appeal to all ages as they embrace their inner grump. The few brave men in the audience also uttered more than one belly laugh and so their title of Chin Up Britain does seem appropriate. There can be no snobbishness about this production: it is well directed, well performed and creates a thoroughly enjoyable night at the theatre. Sometimes a good giggle is all anybody needs.
Until 5th June
Reviewer: Amy Yorston