Gulliver Returns
Dan Coleman
Dawn State Theatre Company
Underbelly, Cowgate
–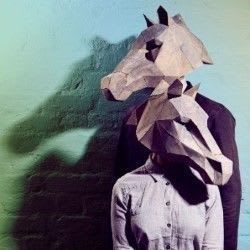 Adam has lost his mind. He's become obsessed with Jonathan Swift's famed novel Gulliver's Travels and believes that he is the far-flung protagonist of the book; only allowing his beleagured wife Lil to address him only as "Lemuel".
It's on that pretence that the audience is thrust into their household, as she has reached the end of her tether, and just maybe, if he has an audience to tell his story to, he might break through the fever of his madness and let her back in.
Having thundered onto the Festival Fringe with their stunning modernised take on The Man Who Would Be King and followed up with the equally captivating Wonderful Discovery of Witches in the County of Lancaster, it's not a huge surprise to find that Dan Coleman's latest adaptive work is also a mixture of historical literature with a heavy bent towards the psychological condition.
Using the framing of Gulliver's adventures and the stories and motifs therein as a start point, Coleman has woven the story of Adam and Lil with nuance and depth, which are skillfully yet subtly brought out to leave the audience keenly aware of the subtexts at play.
Both Cathy Conneff, and Jack Bence, who play Lil and Lem respectively, acquit themselves brilliantly throughout the piece, each layering their performance with an undercurrent of tortured sadness, at a dark past neither truly wants to face.
While Bence is tasked with much of the piece's manic energy, it's Conneff who glues the whole together, acting as a bridge between the audience, the characters, and the emotional core of the story. Lil's steely but brittle resolve to bring the man she loves back from the mockery he's become is genuinely touching and, as the piece winds towards an ending that is both sympathetic and satisfying, you can't help but feel impressed by all involved.
Reviewer: Graeme Strachan