Gulliver's Travels
Lulu Raczka, inspired by the book by Jonathan Swift and devised with the company
Unicorn Theatre
Unicorn Theatre (Weston Theatre)
–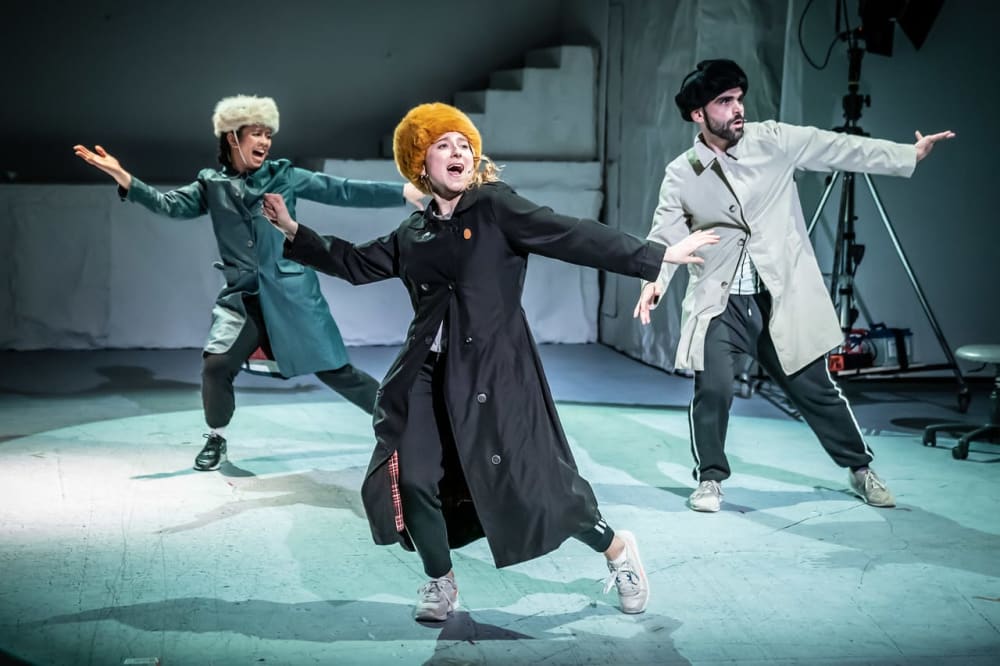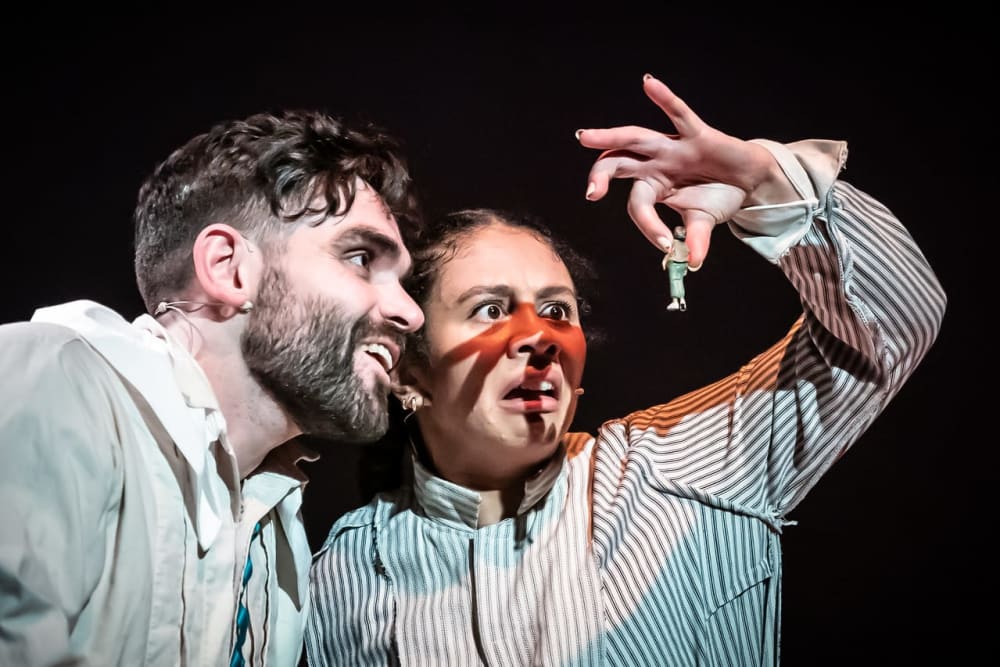 This is a very free retelling of the barebones of Swift's classic story that is beautifully tailored for its target audience of 7+ and the packed house of school parties that I saw it with loved it.
The pleasure comes as much from the way of its telling as from what is told: well, how do you put Lilliputians, Brobdingnagians and the mysterious Houyhnhnms on stage?
Director Jaz Woodcock-Stewart and her team borrow some of Katie Mitchell's 'live cinema' methods and use video cameras, table-top models and projections to cleverly combine live camera work with in the flesh actors with every element created in full view of the audience.
From the packed foyer, it seemed everyone had arrived early, no school buses held up in traffic as sometimes delays things and the show starts dead on time but before that, the eager audience had seen the cast cavorting on stage videoing themselves to make everyone aware of the combination of on-stage action and video projection and the rhythms of Ben and Max Bingham's music encouraging clap-along participation.
When Mae Munuo steps forward into a circle of light and says "Hello!" the play proper has started. She is our Lemuel Gulliver, a little girl fed up with being asked to do household chores and run errands for her sick mother whom we hear calling from offstage. "I've got my English homework," she reminds mum, and perhaps that is what sparks her to go on an imaginary adventure and take us with her.
So, off to sea, but as a tiny figure is lowered into a glass of water, blown up to human size in projection, the adventure has started. She had meant to join a ship's crew but where's the ship? A little act stands in for a galleon and then there is a glass tank to froth up a storm in and a shipwreck that sees her washed up on the shore in Lilliput. This is a fast-moving story.
You may think you know Swift's story but when did you last read the unedited original? This version gives only a sampling of Gulliver's travels and doesn't plumb the depths of its satire, but I'll bet there are details that will seem entirely new to you quite apart from the way Lulu Raczka handles them.
As Lemuel moves on from one land to another, meeting a Brummie-accented Empress, nearly squashing tiny new friends, she joins a dance festival, pricked by tiny enemy arrows in a pointless war or Elizabeth I popping up in a laboratory on the flying island of Laputa, there is always something happening and the music and movement between locations keeps up the excitement (though those Laputan clever clogs whose brains think so hard but never actually achieve anything do slow things down a bit).
Mae Munuo is joined by Leah Brotherhead, Sam Swann and Jacoba Williams who play all the other parts, driving the show with their energy as they create instant characters (and manipulate models and handle camerawork). All the other contributors, including Rosanna Vize's clever design and Jess Bernberg and Joshua Gadsby's lighting, help create a world that can trap Gulliver under a beer glass or make her tower above us, but it is those four performers through whom this show works its magic.
Reviewer: Howard Loxton