Gutenberg! The Musical!
Written and performed by Anthony King and Scott Brown
Jermyn Street Theatre
(2006)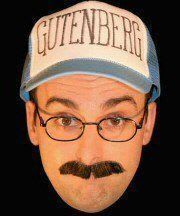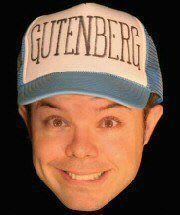 Tip a short-order waiter in New York, or stand in line at the TKTS bureau on Times Square, and a geek is likely to hand you a twofer for some obscure musical he has just produced, or offers you the chance to invest in a show that simply can't fail.
Two such geeks have just hit London in the guise of Bud Davenport, an intense little guy like Peanut's Charlie Brown, who wrote the score, and his lofty buddy Doug Simon, with a Groucho-style false moustache, who devised the book of this musical, ostensibly about the inventor of movable-type printing but actually about showbiz ambitions.
They are looking for a West End producer to fund a spectacular stage production with a large cast of girls and guys, which could be useful when, as planned, they transfer their show to Broadway.
Both take credit for the ingeniously rhymed lyrics which, set to a series of pastiche show tunes and 'charm numbers', occupy most of this cod backers' audition showcase; happily ending with a sock-it-to-'em finalé, a memorable roundelay that had me singing all the way home in the car.
Their sprechgesang songs, often given full vibrato, are interspersed with coy self revelations: but plus some awkward gags about German anti-semitism and the holocaust, which may work in the Big Apple—it was a hit at last year's NY Musical Theatre Festival—but fall flat on deaf London ears.
The eponymous Gutenberg is largely a walk-on part. Most of the action concerns a psychopathic Bad Monk, determined to prevent the development of printing, and his association with the inventor's fictional sweetheart Helvetica, who in a Grimm turn of unlikely events, becomes complicit in the sabotage of Gutenberg's wine press cum printing outfit.
The show's McGuffin is the use of some 30 or 40 blue and white baseball caps emblazoned with the names of characters, often stacked four or five high and worn by the two performers to provide quick-change versatility, or flourished as props to the action. At one point a dozen or so hats are strung out like washing, as a clever representation of a chorus line.
True begetters and performers are actor, writer and critic Scott Brown, a New Yorker who plays tunesmith Bud and whom I suspect is also the unnamed director and moving force; and Anthony King as Doug, a fringe artistic director who started out in North Carolina, and comes flourishing an impressive list of American stage and screen credits to his name.
Both are making their London debuts with a show that has something of the daft drollery of the National Theatre of Brent, a combination of coarse acting and naive sophistication in dealing with 'big themes'. But as a parody with few belly laughs can it achieve similar cult status on Shaftesbury Avenue?
Produced by Trevor Brown, their 90-minute show marks the first in-house Jermyn Street production for some time, and also enjoys the benefit of a fluently witty piano accompaniment by English actor musician Michael Roulston.
Reviewer: John Thaxter