GUTS
Peter Dillon
Fiona Macpherson, Peter Dillon, Mining Institute
Newcastle Mining Institute
–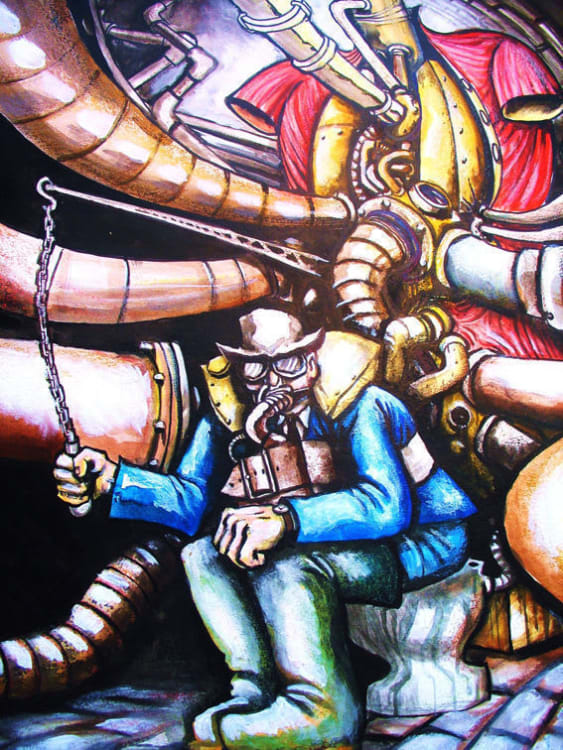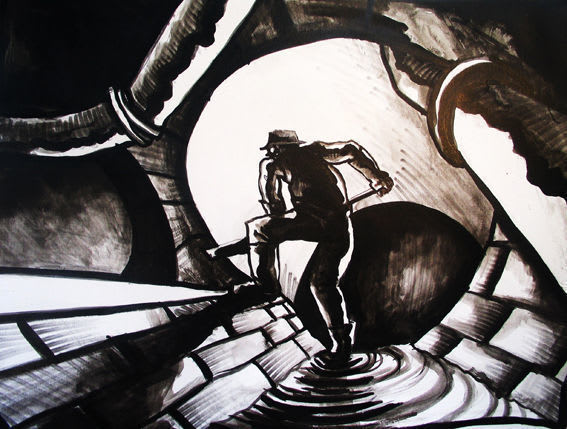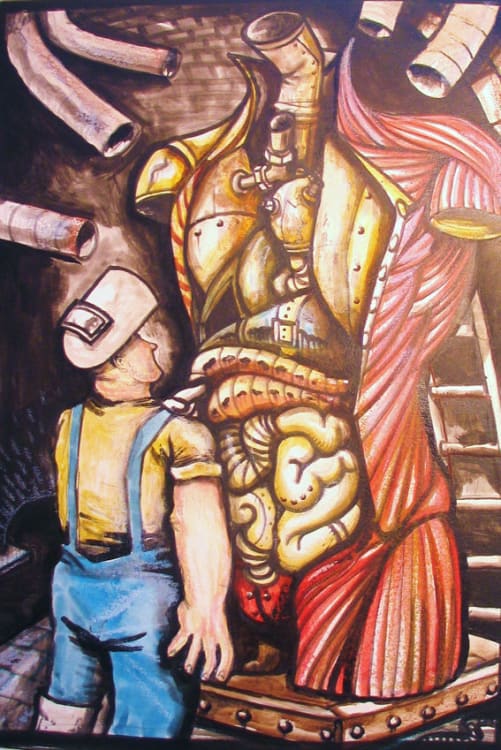 I first saw a rehearsed reading of GUTS some 20 years ago at Live Theatre, Newcastle. I don't remember a lot (the fault as much of my errant memory as that of the play) but Peter Dillon has greatly rewritten it.
We're also site-specific now; it's performed promenade in the Victorian splendour of Newcastle Mining Institute where the stern faces of countless ex-presidents stare down at us from the walls.
The choice of venue is deliberate as this part-satire, part-fable, part-agit-prop, part-naturalism piece is inspired by the dynamic duo Dobson and Grainger, two architects / developers whose square mile of Victorian buildings, Grainger Town, despite the greedy eyes of speculators, still define this highly individual city.
Indeed, at times the venue itself almost steals the show, especially in the magnificent Wood Memorial Hall with its beautiful stained glass and its wrought iron balcony circling the huge room.
We arrive at the play to be given a glass of wine, the cast serve us tea and biscuits at the interval and afterwards invite us for drinks. It's probably the most customer-friendly theatre performance I've experienced.
It's also a good example of self-help in stringent times, well-known professional actors and writer combining with graduate drama students from Northumbria University for valuable experience under the eye of lecturer Fiona Macpherson (who directs) to bring a cost-effective production which forms part of the month-long Festival of the North East.
Here's the plot. Local businessman Carlisle (Alex Elliott) is threatening to replace the Dobson / Grainger legacy with a gated community for the rich and privileged called The Citadel (see the eye-catching Citadel promo-video). Out to stop him is Tony Neilson's Charlie, a slightly mad artisan wearing a welder's mask and appearing with a succession of giant Heath Robinson type devices resembling human innards. The devices include a powerful wind machine dramatically bursting in and threatening to blow the entire audience away.
These devices are to do with Charlie's disturbed bowel state and his somewhat muddled post-Michelangelo theories on links between architecture and human anatomical systems (don't ask more).
We have Chris Connel's video-links as an ice-cold Russian oligarch interested in The Citadel (and also buying Newcastle United), a love interest from Charlie Martin's Donna and Tom McLean's Jimmy, plus Erin Conner as the Mining Institute guide Mary whose efforts are constantly interrupted by the play itself. Jamie Tansley as Carlisle's side-kick Smirk completes a cast who create a good rapport with an audience moved up and down stairs, along corridors and in and out of rooms. Characterisation though remains slight.
The production (overall design by Keith McIntyre) includes archive film and contemporary vox-pop videos of the city on giant screens, striking animation from Robert and Jan Jefferson and recorded music. There's also one of the most unusual lines I've heard in theatre as Carlisle dismisses a character with, "You may be the apotheosis of pulchritude, but you are vapid." Pick that one out of the net.
I felt affectionate towards GUTS (which we learn stands for Grand Unified Theory of Structure); it's a brave attempt and occasionally strikes home. Yet it rarely grabs me by the throat. It put me in mind of Rod Wooden's Medea Media which also looks at the Novocastrian's rich and powerful but through the device of Greek myth, a simple direct method as against GUTS which has a somewhat bitty mix of styles (naturalistic or not?), a policy that tends to weaken its sense of drama, though not usually its sense of fun.
Reviewer: Peter Mortimer