Guy the Musical
Story and lyrics by Leo Mercer, music by Stephen Hyde
leo&hyde
Arts Centre Washington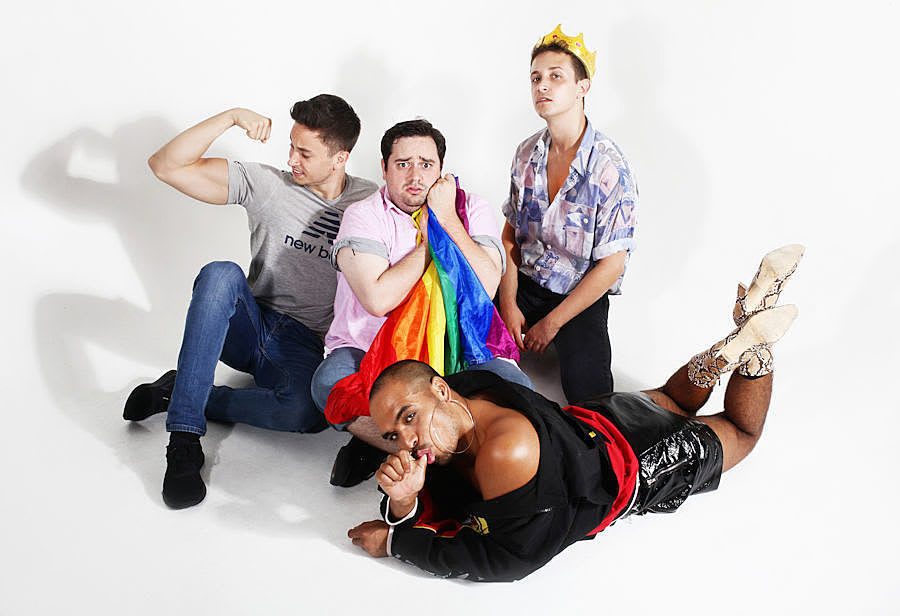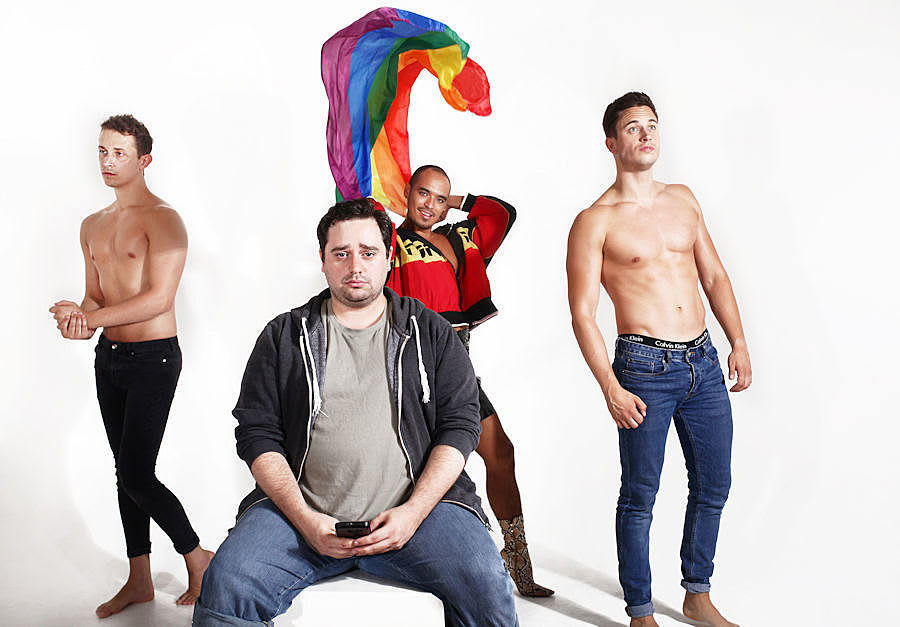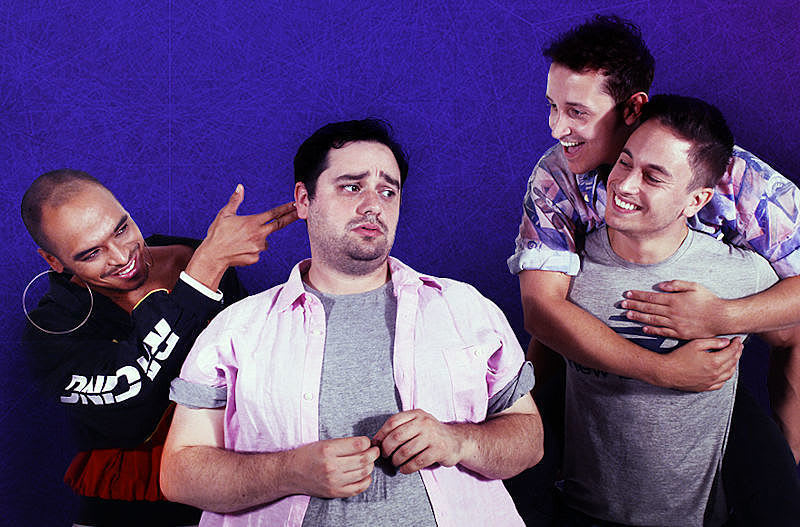 For much of the first half of Guy the Musical, I felt I was on the outside looking in, observing a world which was really quite foreign to me, the world of Grindr, of catfishing, of gyming and so on. The world, in fact, of gay millennials—so very far from my life as a straight septuagenarian!
The set, all white (designed by Andrew Exeter), consists of (from left to right) two of what I took to be picture frames, then a door, then another frame. When the play started, in low light, accompanied by almost subliminal music (mood-setting rather than a traditional overture), over a period of almost five minutes (and yes, I did time it roughly), one by one, three of the actors—three well-toned, good-looking young men—emerged from the door, entered one of the frames and took up a pose which they held until the action started.
That was when Guy (Ben Raymond), overweight, bespectacled, a bit nerdish, shy but eager to please, entered and we were introduced to his life and that of his room-mate Tyler (Eliott Wooster), and their interaction with the other two, Aarian Mehrabani as Aziz and Steve Banks who plays Joe, Dom and Guy's Boss, three very different parts which give him the opportunity to show real versatility, parts which include a bullying personal trainer and a real online predator.
Gradually, I began to realise that those frames weren't frames at all but Grindr profile pictures (I did know what Grindr is—I'm not that far out of touch!). Catfishing took a bit longer, but I got there! By the interval I had begun to realise that, in spite of the sexual orientation difference and the slight vocabulary barrier, this is the universal story of the person who feels he (or she) doesn't fit and, in a desperate attempt to do so, makes bad decisions and then has to deal with the consequences.
In other words it's a gay rom-com (although I'm not sure that there's all that much "com", to be honest) with universal appeal, for, after all, relationships are relationships, no matter what the sex(es) of the participants.
As Guy, Raymond engages our sympathy from the start, although his almost puppyish eagerness to please sometimes makes you want to give him a slap and say, "Just be yourself! Stop trying to please everyone!" Which is, of course, exactly how leo&hyde want us to react—and is the most sensible advice you can give anyone, no matter what their age, sexual orientation or anything else.
The musical style is electro/techno pop and the score does provide a driving force which pushes the story on powerfully.
I confess that I found the first half ("half" being something of a misnomer, as it was a fair bit longer than the second) a little on the long side. On two or three occasions I felt that this was the perfect moment to break but we continued, losing a little of the dramatic tension each time. Overall, however, the piece paints an effective and moving picture of the difficulties that many people face in finding a satisfying, loving relationship, and the pitfalls along the way.
The NE tour finishes on Saturday at Hartlepool Town Hall Theatre and the production then moves on to Birmingham, Ormskirk, Manchester, Huddersfield, Keswick, Mansfield and London.
Reviewer: Peter Lathan