Guys and Dolls
Joe Swerling and Abe Burrows; based on story and characters of Damon Runyon; music and lyrics by Frank Loesser
New Victoria Theatre, Woking, and touring
(2006)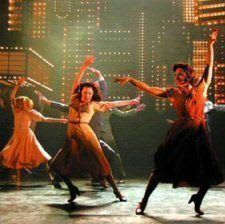 Having perfected the role of nose-blowing Adelaide in the London production, Claire Sweeney was chosen to spearhead the touring version, and what a great choice she has proved to be. With her bubbly personality and down to earth manner she is a great hit with audiences and cast alike, a perfect Adelaide keeping firm control of her New York accent, and she really shows her mettle (and almost everything else) in a very 'cheeky' version of "Take Back Your Mink".
Fellow Liverpudlian Joe McGann is the perfect foil as lugubrious reluctant bridegroom Nathan Detroit, engaged to Adelaide for fourteen years but more intent on setting up an illegal crap game then taking the commitment of marriage. To this end he bets the biggest gambler he knows that he cannot get a date with the beautiful righteous Sarah, leader of the local mission and intent on converting as many sinners as possible to the ways of the Lord.
The production got off to rather a slow start due to the distraction of the sound system slightly distorting the voices and with the suggestion of an echo giving the impression that we were in a large empty room, which was certainly not so with a completely full house, but it soon got into its stride and the plot unfolded.
Taken from one of the stories of New Yorker Damon Runyon, whose quirky newspaper columns with their distinctive inventive language were a hit with the public in the early the twentieth century, original director Michael Grandage preferred to go back to the essence of those stories and their more realistic streetwise style, although how many gamblers can dance like this company I cannot imagine. Choreographer Chris Bailey (original by Chris Ashford) has perfected the most stupendous dance sequences, mostly for the boys, and brilliantly performed by the talented cast absolutely fizzing with energy and enthusiasm. The enthusiasm extends to the touring director Jamie Lloyd, who, members of the cast believe, is destined to become one of the top directors in the country, and he's certainly done a great job with this show.
When we move from New York to Havana the dancing positively burns the floor, Latin rhythms giving an extra vibrancy, and dancers Celia Mei Rubin and Joshua Horner as Havana girl and boy give a performance to make you gasp. Here Sarah drinks too much, dances on top of the bar and gets into a fist fight with the dancers, her goody girl image gone, at least for the time being. Lisa Stokke of Mamma Mia fame is this very distinctive and original Sarah, and Sky Masterson, the gambler who wins his bet and takes Sarah to Havana, is Ben Richards who at the beginning is very reminiscent of a casually confident Frank Sinatra but Havana affects him too. Recently one of the judges on the television "Strictly Dance Fever" he shows he is no mean hoofer himself.
All the well-known songs are here including "If I Were a Bell", "Luck be a Lady", "I've Never Been in Love Before", and the showstopper "Sit Down You're Rockin' the Boat" was performed brilliantly by understudy Neil Clench, Christian Patterson being indisposed.
A very enjoyable, feel-good, happy show and a great night out – or maybe two or three if you can afford it. It's well worth seeing more than once.
Touring to Birmingham, Plymouth, Sunderland, Milton Keynes, Manchester, Nottingham, Sheffield, Southampton, Oxford, Liverpool and Edinburgh.
This review was first published in Theatreworld Internet Magazine.
Reviewer: Sheila Connor