Guys and Dolls
Music and lyrics by Frank Loesser, book by Jo Swerling and Abe Burrows
Ovation Productions
Upstairs at the Gatehouse
(2011)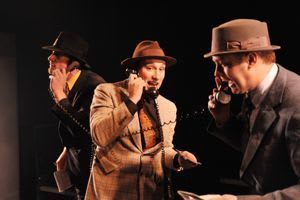 A great show, Guys and Dolls, packed with classic numbers that most people reading this could probably sing at the drop of a hat, or more appropriately the throw of a die. On opening night in Highgate, people were queuing for returns and this production is already a hot ticket, but does it meet their expectations? Does this London Fringe première pull it off? Yes, definitely yes!
Director Racky Plews delivers a show full of energy and joie de vivre. She plays it on a traverse that brings everyone within almost touching distance of the action and stages it so that it is performed to the whole house without ever making any obvious contrivance in the blocking.
This is the seedy side of Broadway and Martin Thomas's design places it in a grey world with tired looking posters lining the rails in front of the audience seating. At one end, the band is perched above a pair of square grey arches that could lead into a yard or a gangster hideaway; at the other, a wooden scaffold suggests racetrack starting gates, though part of it moves forward and becomes the façade of the shop used as the Salvation Army mission. That's it, apart from tables, chairs, props and a newsvendor's tired cart, but it still bursts into colour as it is peopled by the characters of Damon Runyon's underworld seen through his indulgently rose-tinted eyes.
It is strongly cast and imaginatively choreographed, some of the hottest dancing being in the transitions between scenes which are skilfully contrived and meticulously matched to the moving arches. The sense of street life which marks the opening number begins with characters crossing the stage even before the overture and is sustained throughout with a NY cop used for the rephrased request to turn off mobile phones.
Clever business entwining three telephone cords for three gamblers placing bets ("Fugue for Tinhorns") establishes a pattern which is decidedly show time not naturalistic and the choreography really takes off in the prelude to the Havana sequence, amazingly performed in the confines of the space. This is a cast that can really dance as well as sing. There aren't enough of them to provide the extra hoodlums to make up the dozen sinners that Sky Masterson (Jamie Sampson) promises Salvationist Sarah Brown (Amy Bailey) he will bring to a midnight prayer meeting but with the help of a few hats and prayer books the audiences make up the numbers.
This Sky and Sarah are charming, rather than overly charismatic, which is right for this production, though rum produces a remarkable transformation in Bailey's sedate Sarah on their trip to Havana. They may be the main romance but in this show every character makes an impact from Connor Dowling's snarling policeman, who always seems to have a bad smell under his sharp nose, to Anthony McGill's gentle Irish Salvationist who with "More I Cannot Wish You" reveals one of the best voices on stage.
Rebecca Sutherland makes Adelaide a real trouper, touching in "Adelaide's Lament" and hilarious leading her toe-tapping colleagues Leanne Tain Marshall and Hayley Ellen Scott in the Hot Box cabaret numbers with great style. Meanwhile as her beloved Nathan Detroit (fourteen years engaged still not married) James Kermack gives us a softie beneath his bachelor stubbornness.
Patrick Rufey and Jos Slovick make a great double-act as Nicely and Benny and Paul Bullion's Harry the Horse, Matthew John Gregory's Angie the Ox complete these likable underworld characters in contrast to David Muscat's obnoxious Big Jule.
The band, well-balanced against the voices, the lighting, and Lee Proud's vigorous choreography all come together to make this an excellent ensemble production from which it is certainly not the sets you'll go home singing.
"Guys and Dolls" runs at Upstairs at the Gatehouse until 29th January 2012.
Reviewer: Howard Loxton