Gypsy
Book by Arthur Laurents, music by Jule Styne, lyrics by Stephen Sondheim
St. James Theatre, New York City
(2008)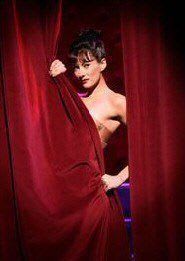 My first Broadway musical was Les Miserables, which my grandparents took me to when I was about twelve years old. I still remember sitting breathless and rapt as Eponine sang On My Own; the actress' voice was electrifying and transported me - and every other audience member, if the silence in the theatre, which burst into rapturous applause when she finished, was any indication. As far as I was concerned, I was in revolutionary France.
Watching the current production of Gypsy, I was equally transported to the Great Depression - the Orpheum Circuit, the dusty roads, and the glittering lights of Mama Rose's Broadway dreams. The cast, led by Patty LuPone (as Mama Rose), Laura Benanti (Louise) and Boyd Gaines (Herbie), packed a uniform wallop and a half. For the first time in a long time, the story, performances and voices on stage were in every way imaginable the pinnacle of what one expects from a Broadway production. Not one flat note or missed cue to be found here, and the take-no-prisoners performance swept me pell-mell into the tale of a pushy stage mother forcing her daughters to fulfill her own unrealised ambitions.
I was worried, before the show, that there was no way Gypsy could live up to its press, but if anything the production surpasses the expectations that come with multiple Tony awards and nothing but praise; it's one of the few shows that is 100% worth the price of a ticket.
There are many elements at work here, but what Gypsy oozes (other than perfection) that the Crybabys and Legally Blondes of the Great White Way are missing is warm, humorous, determined humanity. It seems from every performance and every note of this classic musical; while the production is a traditional one it's a traditional production done with brilliance - whether LuPone and Benanti are facing one another down, or Gaines is making a point of Herbie's shortcomings, these are people - not actors posing for accolades. It is so rare to see performers who can command the undivided attention of an audience or a director who knows how to aim your attention at the subtlest glance or change of expression, and yet in this production all these things happen with seeming ease that belies the work which has gone into it.
Supporting roles add depth and flavor to the production. Dainty Jane (Leigh Anne Larkin), with the grinning masque that covers a sour disposition, and Tulsa (Tony Yazbeck), with his dreams of a dance team, are only two more highlights of a bright, bright cast. Characters with only one or two lines stand out and stick in your memory: the snippy New York assistant to a Broadway producer, the girls who accompany Louise on her own journey toward stardom, and most notably, Tessie Tura, Mazeppa, and Electra (Alison Fraser, Lenora Nemetz, and Marilyn Caskey) as the strippers who give Louise their tips on how to make it in the 'biz. Skillful direction wrings significance from the briefest glances and moments, as in a hotel room scene where Louise and Tulsa's eyes barely meet, but reek with significance.
Finally, last but certainly not least, Sami Gayle as Baby June (along with each of her newsboys) left both me and my friend staring slack-mouthed at their performances. The dance steps and songs cannot have been easy to learn, let alone perform with such finesse, but these kids - like the rest of the production team and cast - take the cake.
Reviewer: Rachel Lynn Brody