HMS Pinafore - or The Lass That Loved a Sailor
W S Gilbert and A S Sullivan
Sasha Regan's All Male Company
Yvonne Arnaud Theatre, Guildford
–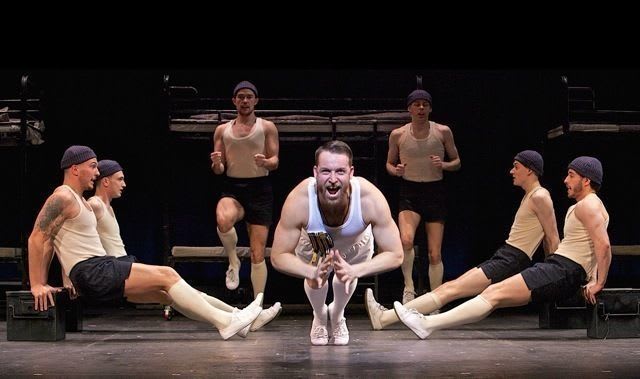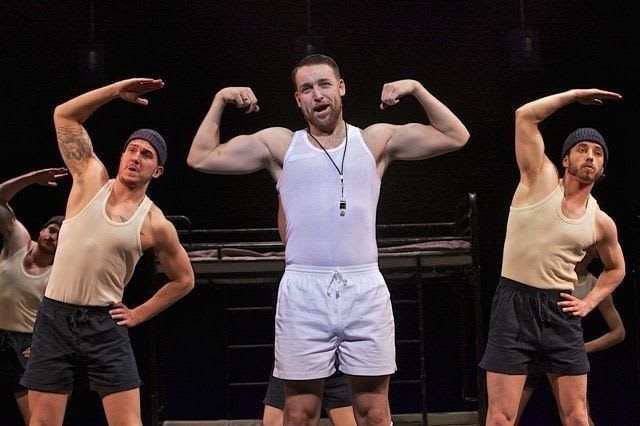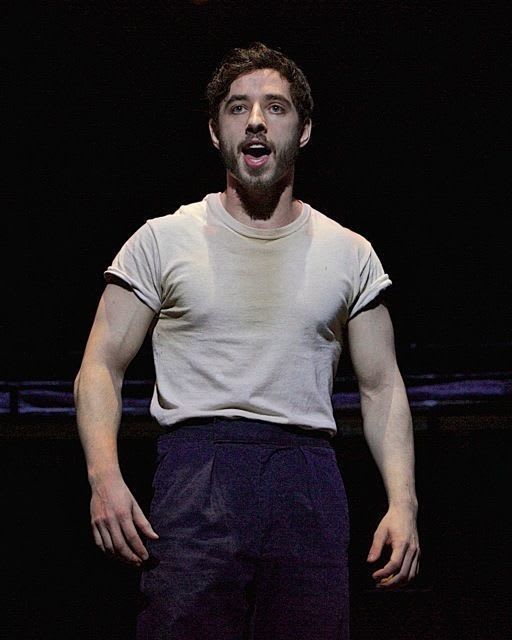 Not having previously been a fan of Gilbert and Sullivan I went along to this all-male production with some misgivings, but the way this young, energetic and talented company presents the story makes a lot of sense, as well as being the greatest fun.
Set in the hold of a World War II battleship, these are men in need of some light relief and distraction from the horrors of battle and their answer is to perform their own version of this comic opera which pokes fun at the English absurd obsession with social class, in this case the upstairs / downstairs world within the hierarchy of a ship.
Captain Cocoran's (Neil Moors) daughter Josephine is expected to marry her father's choice, The Right Honourable Sir Joseph Porter, who it seems achieved the position of Lord of the Admiralty by working at a desk and never ever going to sea. She, however, is in love with a lowly sailor, Ralph (Keith Jack, best known for the BBC show Any Dream will Do.)
Marriage between the classes "just will not do" and, being a dutiful daughter, Josephine will marry Sir Joseph, but, due to bumboat woman Buttercup mixing up babies many years ago, positions are reversed, making nonsense of the social divide, but that's not revealed until the end. A lot happens before that.
Using whatever is to hand, the crew create different personalities in the story with the briefest of concessions to costume, although where they found the bowler hat and sock suspenders for David McKechnie's Sir Joseph I can't imagine.
Crew members become his relatives, "the sisters and the cousins and the aunts", with the simple addition of a tiny paper hat and dropping their blue shorts in favour of any skirt-like covering, their personalities as women evident by mannerisms and expressions, and very funny they are too as they twitter, simper and charm.
Also, I've never seen a length of old rope put to such effective use, becoming at one point the ship's rail and providing a lovely and very funny scene where the Captain climbs around to be outside the rail, followed by a love-struck Buttercup, precariously balanced.
You have to be young for this show to cope with Lizzi Gee's brilliantly inventive choreography. Beginning with a brief and speedy hornpipe, it continues with the whistle-blowing Captain's gym class and a mind-boggling scene with skipping ropes which doesn't interfere with the singing at all. It is all very fast, very staccato, intricate and vaguely reminiscent of drill, but much more aesthetic.
The two "female" leads are remarkable, not only for their acting ability but their vocal range is amazing. I swear that in Alan Richardson's Josephine if you closed your eyes you would think you were listening to a soprano, and a very moving one at that, while Alex Weatherhill's Buttercup manages to combine some delightfully comic expressions in his rather matronly portrayal.
Sasha Regan's production is a triumph of ingenuity, talent, enthusiasm and general high-spirited fun and laughter, all underscored by the well-known music, performed on a single piano by Richard Bates. On the night I attended it received a standing ovation—not often seen at Guildford.
Reviewer: Sheila Connor