Habeas Corpus
Alan Bennett
Menier Chocolate Factory
–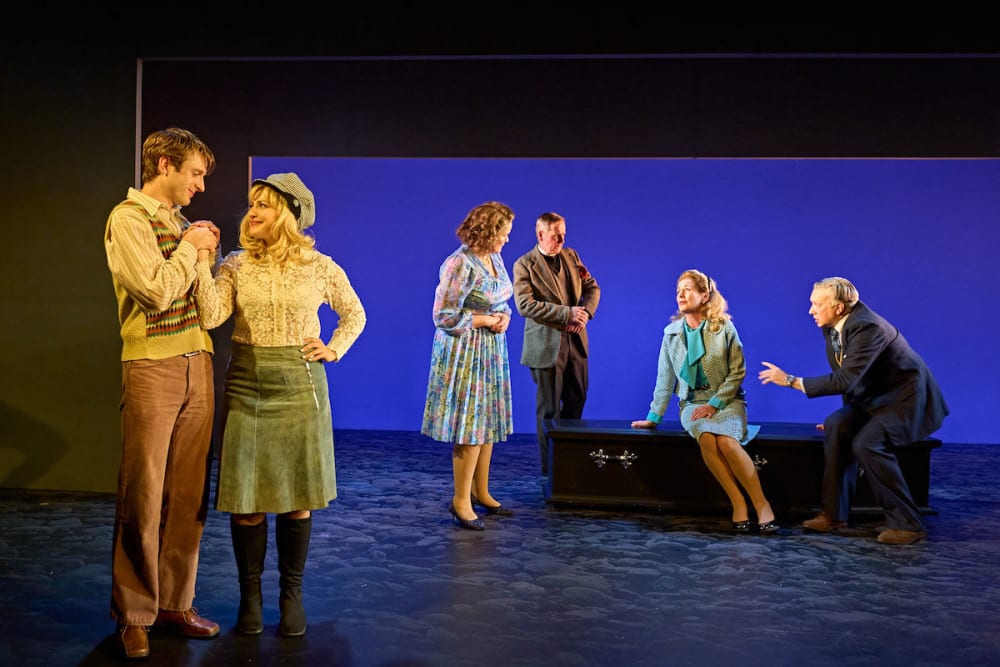 This is Alan Bennett in Benny Hill mode, an end of pier romp rampant with sex that delivers schoolboy smut with a twist of satire. First seen in 1973, when the author himself appeared crossdressed as Mrs Swabb, its Greek-chorus-like cleaning lady, it now feels very dated, even older.
When Jasper Britton as Hove GP Arthur Wicksteed pops his head through the house tabs wearing a face mask, it may seem in the moment (and references to vaccinations do give contemporary resonance) but Habeas Corpus is stuck in a time without modern scruples, when bosoms and falsies were unequivocally comic and references to personal physique went unquestioned. Surprise, surprise they still get laughs from the Menier audience.
Dr Wicksteed is well acquainted with patients' bodies but eager for non-medical interaction, though not with his well-endowed wife Muriel (Catherine Russell) who finds it missing in her life. He hopes to get his hands on attractive Felicity Rumpers (Katie Bernstein) whom his spotty-faced son (Thomas Josling) has also fallen for.
While Arthur is supposed to be at a medical conference (cover for a planned assignation) Muriel opens the door to a salesman (Abdul Salis) who seems to make advances, though he's actually making a follow-up call after Constance, her flat-chested sister-in-law (Kirsty Besterman), has ordered falsies.
To them, Bennett adds celibate cleric Canon Throbbing (Matthew Cottle) who considers himself engaged to Connie, BMA President Sir Percy Shorter (Dan Starkey), whose status far exceeds his stature, who is an old flame of Muriel's, Felicity's mother (Caroline Langrishe), who reveals a secret from the dark days of the Blitz before her ex-pat life in Africa, and incipient suicide Mr Prurdue (Kelvin O'Mard) trying to get to see Wicksteed.
Patrick Marber's direction whips the pace up as these characters mix in farcical confusion with Ria Jones's Mrs Swabb making caustic comment from the sidelines.
Kenny Everett would have declared it "all in the best possible taste" and if that reference rings bells with you that is the level it is pitched at.
Designer Richard Hudson follows Bennett in mounting it very simply with no furniture but a coffin centre-stage as a momento mori. This frames strong performances that add an extra dimension to stock types and serve its farcical remit.
Reviewer: Howard Loxton