Hags: A Musical Extravaganza
Alice Higginson-Clarke, Laura Doble and Siân Keen
Scratchworks
The Barbican Theatre, Plymouth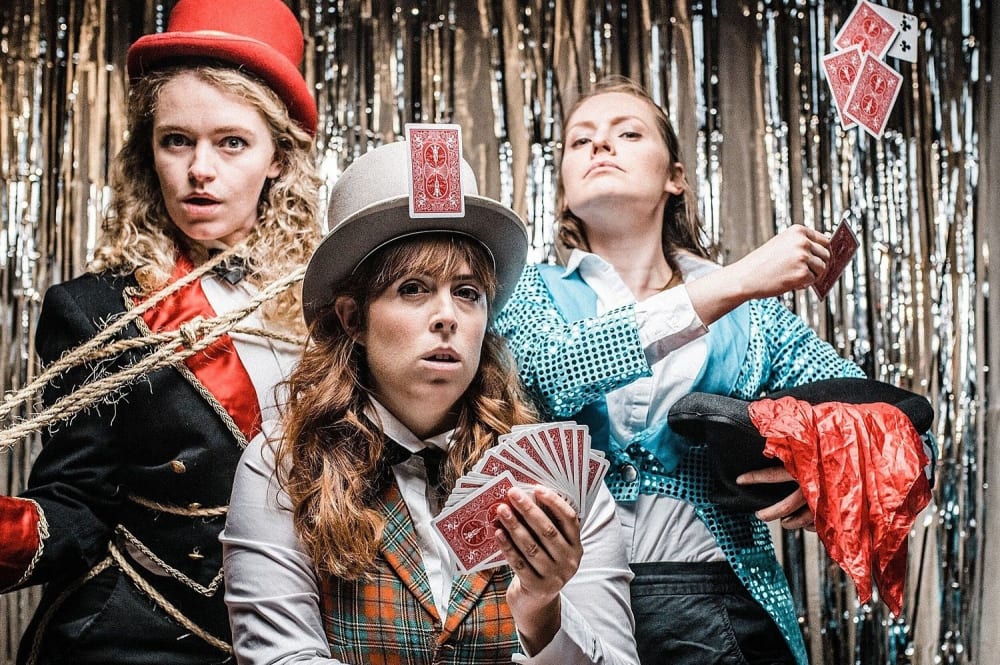 Hags enchants and charms as dark secrets, sleight of hand and historical horrors unfold.
It's 1682 and the story of the final witch trial in Britain where three women in deepest Devon are accused of witchcraft when the townsfolk become sick from an unknown bug (how apposite) and a scapegoat is sought.
Wise woman Temperance Lloyd (Alice Higginson-Clarke), baker-without-a-bun-in-the-oven Susannah Edwards (Laura Doble) and mute fox-lover Mary Trembles (Siân Keen) face a chaotic court where appeasing the ryebread-loving masses is paramount, chasing the lady is foremost and hanging is inevitable.
A sad story made lively and fun with trickery and magic, sequins, sacks and sparkle amidst the gloom while folk music and '80s synth blend to add dimension with composer Andrew Armfield versatile on techno and acoustic instruments.
The terrible tale is populated by zealot husband, upper-crust judges, mountebanks, card sharps and unsound witnesses galore—all played by the dynamic trio with a switch of a bonnet, a turn of a cloak or donning of glitzy garb.
On the sold-out debut night, there were a handful of no-shows for the second half but a standing ovation from the enthusiastic remainers.
Great fun physical comedy, Hags is commissioned by Beaford's Made in Devon Fund and supported by Arts Council England and Barbican Theatre Plymouth
Scratchworks is a physical ensemble of three women who work collaboratively to create highly visual, playful theatre from scratch. Founded in Exeter in 2013, the trio create original stories and use a diverse mix of physical movement, puppetry and live music.
Recipients of the VAULT 'Festival Spirit Award' 2017 and an NSDF award for 'Best Overall Body of Creative Work' at the Edinburgh Fringe 2013, the company was also nominated for the Charlie Hartill award in 2016 and the IYAF: Best of Brighton Fringe Theatre Award in 2017.
Reviewer: Karen Bussell