Hairspray The Broadway Musical
Mark O'Donnell and Thomas Meehan from John Waters screenplay
Mark Goucher, Matthew Gale, Laurence Myers
Theatre Royal Plymouth
–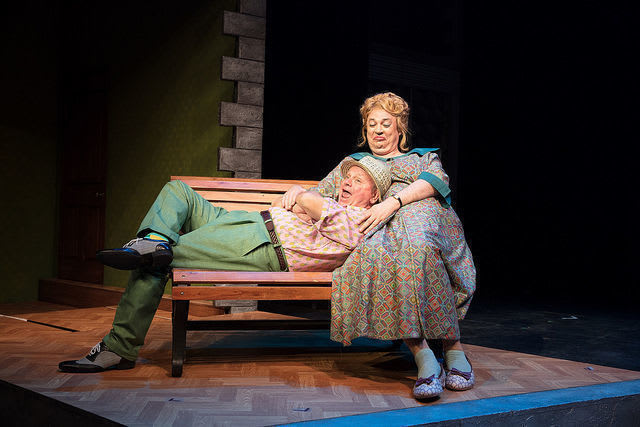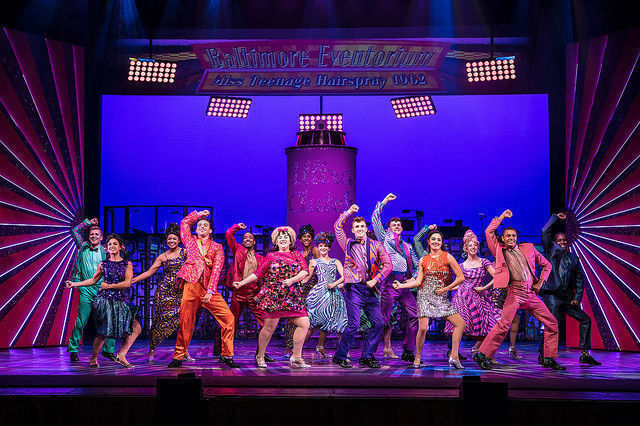 Hairspray the Musical is certainly still popular and packing 'em in with standing ovations and strut-alongs.
1962 Baltimore is still big, bigoted and ready to boogie with nasty ass mothers, simpering teen pageant queens, bland spineless boys and plenty to make a song and dance about.
The musical, derived from John Waters's 1988 cult classic—itself derived from real life events—is a glitzy homily on integration which doesn't stand up to careful scrutiny but, regardless, exudes feelgood fun and a certain 2D charm. But scratch that simplistic, sparkly surface and a nasty veneer appears and, given recent events in the Maryland city, the portrayed ingrained intolerances are clearly timeless.
New graduate Rebecca Mendoza is engaging and believable as Pollyanna-esque Tracy Turnblad, the unlikely heroine with an impenetrable Jackie Kennedy 'do', the moves (if not the obvious form) for Corny Collins's dance spectacular and a ready-to-eat-breakfast-then-change-the-world irrepressible attitude. Great fun.
A thwarted audition, detentions galore and a move to Special Ed (snigger, snigger, sneer, sneer) brings her in contact with snaky-hipped Seaweed (a gloriously athletic and charismatic Layton Williams—a far cry from Kylie in Beautiful People and Bad Education's Stephen) and the pneumatic Motormouth Maybelle (The X Factor belter Brenda Edwards whose "I Know Where I've Been" is visceral. Wow.) and so a teen TV star is born.
Aided by gawky sidekick Penny Pingleton (Annalise Liard-Bailey, another new graduate making a fine debut), who is banned from having aspirations, and formerly wholesome heartthrob Link Larkin (Edward Chitticks), our ground-breaking rabble rouser is on a mission to bring plenty of colour to black and white TV. With the fat-shaming, beauty-worshipping, apartheid-promoting Von Tussles the villains of the piece attempting to preserve the white direction and Mother Pingleton epitomising narrow-minded ignorance and tyrannical parenting, all the elements for an explosive finale are in place.
The elder Turnblads allow time out from the rollercoaster angst, bullying and snidiness with kitchen sink wisdom, sweet, long tried and tested love, and family unity. Matt Rixon carries off the pantomimic, statuesque Edna with equal parts vulnerability and Dame while Norman Pace (he of Hale and – fame) is a genius casting as the diminutive Wilbur.
Mark O'Donnell and Thomas Meehan's book has laugh out loud moments, obvious comedy and gentle humour to mask the unpalatable nastiness beneath while Marc Shaiman / Ben Atkinson's music is perky, on point and—so nice to see—live on stage.
Reminiscent of the strident jailhouse blues of Chicago, "Big House" and the fun (and beautifully enhanced by slo mo and freeze frame moments) "I Can Hear The Bells" are particularly memorable.
There are many levels here for the thinking audience yet a definite hit with the up-for-a-good-time crowd.
Reviewer: Karen Bussell