Hairspray, The Broadway Musical
Music by Marc Shaiman, lyrics by Scott Wittman and Marc Shaiman, book by Mark O'Donnell and Thomas Meehan
Kilworth House Theatre
Kilworth House Theatre
–

Listing details and ticket info...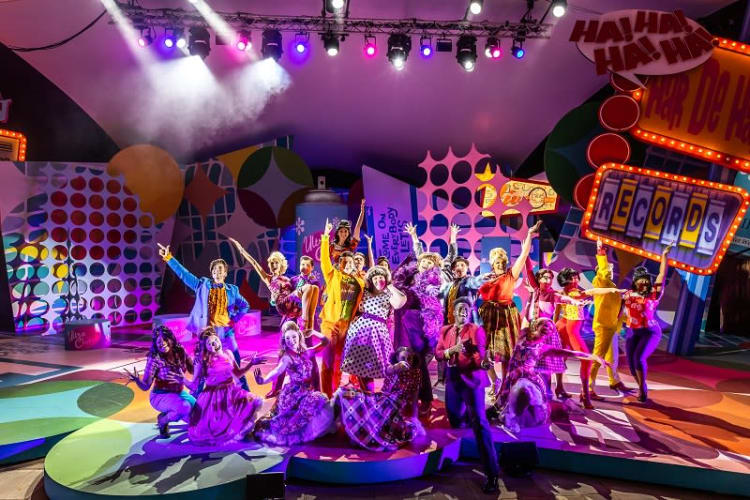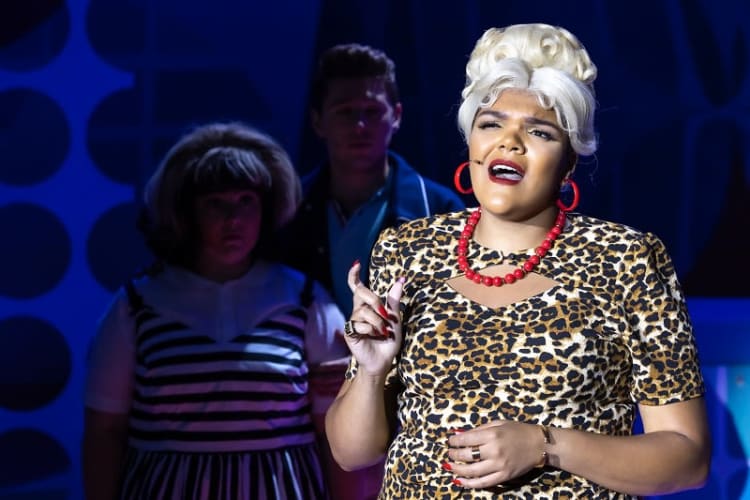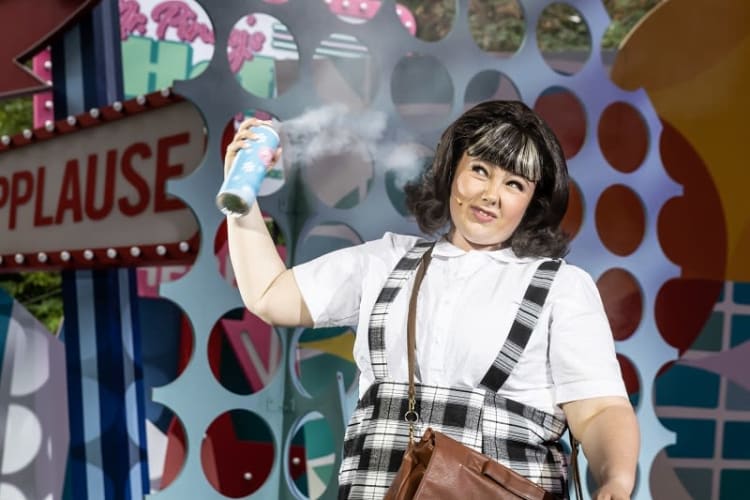 Hairspray, the musical you can't help but warm to, is the summer production at the unique Kilworth House Theatre. This open-air venue is set deep in South Leicestershire's gently rolling countryside; cross the bridge festooned in fairy lights and, in the midst of a wooded glade, 'sail' canopies protect the 550-seat audience and stage. Early July's rather chilly temperatures can be warded off with a warm blanket, and the additional option of pre-show dining in the Kilworth House Hotel or bring-your-own-picnic in the grounds all contribute to the "magic of theatre" experience.
I've seen Hairspray many times now, and this production really embraces the joy and humour of this modern classic set in 1960s Baltimore. What is lost in terms of the size of the stage at Kilworth is gained in the singing, dancing and sheer exuberance of the performances.
Lee Proud's direction and choreography is bouncy and zips along. Paul Farnsworth's costumes and TV studio set have a hint of Austin Powers about them—all bright colours, bobby sox and bubblegum, and of course, the obligatory big hair.
We're over the 20-year mark now since Hairspray opened on Broadway (2002), where it won eight Tony Awards. Originally inspired by John Waters's 1988 cult film, there's also the 2007 film version starring John Travolta, Zac Effron and Michelle Pfeiffer, however, this is a musical best enjoyed live.
Tracy Turnblad is a plus-size teen with big ideas to change the world. She loves to dance; her aim in life is to appear on the Corny Collins Show, and for it to be an integrated show rather than segregated. Tracy also falls for show heartthrob Link Larkin, a situation further complicated by his relationship with Amber Von Tussle, precocious daughter of the show's bigoted producer Velma Von Tussle. Detention, a march for equality, prison time and prison break ensue. Will Tracy become Miss Teenage Hairspray? Will her love for Link be reciprocated?
Charlotte-Hannah Jones is a wonderful Tracy, capturing her spirit and wide-eyed idealism. With her parents Edna (Michael J Batchelor) and Wilbur (Steven Serlin), they are a tight family unit, and Batchelor and Serlin's key number "You're Timeless to Me" is expertly executed in terms of comic timing, ad libs and corpsing.
Jenny Gayner is an enjoyably caustic Velma, and there's lots of cheeky charm with Alex Lodge as Link. The whole cast are excellent, but special mention to Daniel Page as Male Authority Figure and some amusing characterisations.
This musical's great strength, apart from the score, is that simmering just beneath the humour are some serious messages. The wit of Shaiman and Wittman's lyrics and O'Donnell and Meehan's book are the perfect vehicles to draw attention to segregation and racism in the early 1960s, as well as a wider point about acceptance of yourself and of others. As Tracy says, "things need to change, and I won't stop trying to change them. I don't care how long it takes."
Add to this the absolute genius of Shaiman's songs; I will always argue there isn't a dud song in the pack and, while the style is right for its 1962 setting, the music has a timeless appeal.
If you're after fun and feel-good, this is it, and the charming setting is an added bonus.
Reviewer: Sally Jack