Hairspray
Book by Mark O'Donnell and Thomas Meehan, music by Mark Shaiman, lyrics by Scott Wittman and Mark Shaiman
New Victoria Theatre, Woking, and touring
(2011)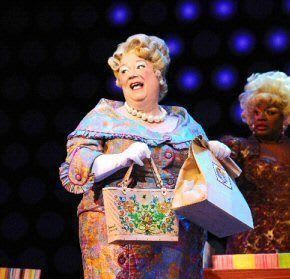 A kaleidoscope of fast moving colour and cartoon-style sets lights up the stage as Woking goes back to a Baltimore High School in 1962 complete with the problems of segregation and intolerance, and the angst of teenage love thrown in for good measure - serious subjects underneath the fun of the show, but presented and performed with such light-hearted youthful joy and exuberance that 'You Can't Stop the Beat' becomes the overriding musical theme.
Based on John Waters' 1988 film, and winner of eight Tony awards on Broadway, the show opened at the previously jinxed Shaftesbury Theatre in 2007 sending audiences wild with excitement and delight. It lasted there for two and half years and is now on tour receiving the same enthusiastic response wherever it goes. Last night's audience could hardly contain themselves during the show and all leapt to their feet in a spontaneous standing ovation (and dance) at the end.
As with school kids anywhere, teenage Tracy Turnblad is ostracised by her peers as a fatty, yet she is determined to enter a dance contest for the Corny Collins Television Show hoping to win the Ultra-Clutch Hairspray Company's annual Miss Teenage Hairspray Contest. What the anti-obesity lobby would make of the fact that she beats Clare Halse's 'Barbie-doll' Amber and gains her true love I don't know, but it goes to prove that a kind, caring and optimistic personality in a rotund shape wins hands down over spiteful and selfish skinny every time - at least I hope so!
A victim of prejudice herself, Tracy aligns herself with the black teenagers whose colour prevents them from appearing in all-white performances and they and their white friends storm the TV show and (horrors!) dance together during a live broadcast to the consternation of Velma Von Tussle, Gillian Kirkpatrick's stridently bigoted producer and mother of the selfish Amber. They end up behind bars with a beautifully staged "Big Doll House' to begin the second act.
This incident really happened in 1963, sadly causing the TV show to be taken off the air, but things were changing gradually - very gradually!
Tracy Turnblad is played by Laurie Scarth, talented, confident, very appealing and a great dancer. "What a joy to be able to eat what you like to keep up your weight" was the comment from my companion, while wondering how Laurie can stay plump with all that exercise.
The almost non-stop music is catchy, tuneful and uplifting, played superbly and with a swing, but sadly with a volume that sometimes overshadowed the witty, amusing and very pertinent lyrics. Together with Jerry Mitchell's choreography the dance numbers are ebullient, slick and great fun with scene changes constant and seamless, while director Jack O,Brien drives the show at a high level of activity and content.
Tracy is encouraged in her dream by her inventor father Wilbur (Micky Dolenz) and he and an unrecognisable Michael Starke as her big-busted mother Edna almost stopped the show with a love duet "Timeless to Me", so touching (despite a couple of giggles) that it was easy to forget they were two men, while Sandra Marvin, as Motormouth Maybelle, had her moment of glory with a very powerful and moving rendition of "I Know Where I've Been", almost another showstopper.
Judging by the audience reaction and the babble of chatter and laughter afterwards, this show should run and run, and deserves to do so.
This production, with slightly different casts, was reviewed by David Chadderton in Manchester and Peter Lathan in Sunderland
Reviewer: Sheila Connor