Half a Sixpence
Music by David Heneker, in a new version by Warner Brown based on the novel Kipps by H.G. Wells
A Bill Kenwright Production
Derngate Theatre, Northampton
(2008)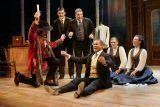 Described in the advertising as 'The Classic Musical', Half A Sixpence certainly has all the elements of the traditional British Musical - from the unsubtle 'big' acting, through to the music hall type performance from its lead.
The 'traditional' elements of the show included the two dimensional constant cyclorama that painted a picture of Folkstone and the simple Proscenium Arch set, designed by Alexander McPherson. Coupled with a multi-functional set and a small company who worked a normally large scale show, there were many likeable aspects to the performance.
The show had all the hallmarks of director, Bob Tomson. From the quirky little comic touches, to the imaginative use of a small company and set. Those who have seen Blood Brothers in the West End will recognise the similarities, especially in the cricket game scene.
This version of Half a Sixpence included new lyrics by Warner Brown. This worked in some places - 'Normal Working Day' and 'No Need of Economy' stood out. Yet, it felt at times that this version had one to many songs mixed in with some excellent numbers.
Perhaps the biggest talking point with this production should be the casting of Gary Wilmot as Kipps, the leading man whom the musical focuses on.
There is no doubt Wilmot's professionalism and polished performance - he had an almost musical hall style as he cheekily played out to the audience. Yet, for me, he never seemed to truly convince as Kipps. Perhaps it was the casting - he seems too old for the role - or maybe it was his 'perfect' performance, which appeared to be in contrast to the rough-around-the-edges character.
One wonders whether Bill Kenwright, who co-produced the show, chose his leading man on the ability to sell seats rather than his suitability for the role.
This does seem harsh on Gary Wilmot, who himself had some excellent moments in the performance. From shouting down the 'posh' characters to belting out 'Crash, Bang, Wallop' with great aplomb. Yet, throughout there did seem something missing from the performance that prevents a whole-hearted recommendation.
"Half A Sixpence" plays at the Royal and Derngate Theatre, Northampton until Saturday 12th April
Wayne Miller reviewed this production at the Sunderland Empire, as did Philip Seager at the Lyceum, Sheffield
Reviewer: John Johnson