Halt! Who Goes There?
Written and directed by Geinor Jones, Inspired by the book Come Out, Wherever You Are by Herbert Williams
Theatr na n'Og
Dylan Thomas Theatre, Swansea
(2004)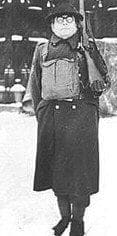 Theatr na n'Og are a TIE company with a strong reputation for engaging brilliantly with their target audience in and around South Wales, Based in Neath, the company tours primary and comprehensive schools throughout Swansea, Neath Port Talbot and Bridgend with small-scale projects and also mounts more ambitious musical productions at professional venues, the most recent being the Welsh language musical Nia Ben Aur at Swansea's Taliesin Arts Centre and the next being The Princess and the Hunter, which will tour venues across Wales in February and March 2005.
The company also mounts an annual "in-the-round" production with a historical theme which is staged at the Dylan Thomas Theatre, to which both Welsh and English lanuage medium schools are invited over a period of up to 16 weeks: by the end of each run, anything up to 5000 schoolchildren come along to watch and take part in the accompanying activities at the neighbouring Swansea Museum.
This year's offering is a terrifically involving drama set in South Wales during the dark days of the Second World War and is loosely based on the real-life mass escape of German POWs from a prison camp in Bridgend.
The style and content are redolent of the classic Dennis Potter work Blue Remembered Hills, in which a group of children(portrayed, as here, by adults)are forced to face their fears while the events of the war are felt closer to home than ever before.
Arwel Davies, Dion Davies, Naomi Martell and Huw Tiplady are versatile and energetic players who bring a multitude of characters to life - not simply the children (Fred, Bubble, Edie and John) but also wisecracking soldiers, pompous police officers, eccentric old Welshwomen and Girl Guide leaders. The result is an engrossing, amusing, gripping and at times very moving exploration of childhood at a time when world events reached into every aspect of daily life.
For today's generation of youngsters, war has become little more than a spectator sport thanks to the numbing effect of TV news bulletins, but things were different during World War Two and this production manages to involve its young audiences very effectively, capturing their imagaination by drawing them into the thick of the action(the seats are constructed as part of the set, running along three sides of Rachael Canning's atmospheric countryside set).
Fascinating fare, cleverly evoking the feel of a period in history which, though instantly recognisable to today's great-grandparents, would otherwise be forgotten by the current generation of children.
Reviewer: Graham Williams