Hamish Henderson: On the Radical Road
Raymond Raszkowski
Theatre Objektiv
Scottish Storytelling Centre
–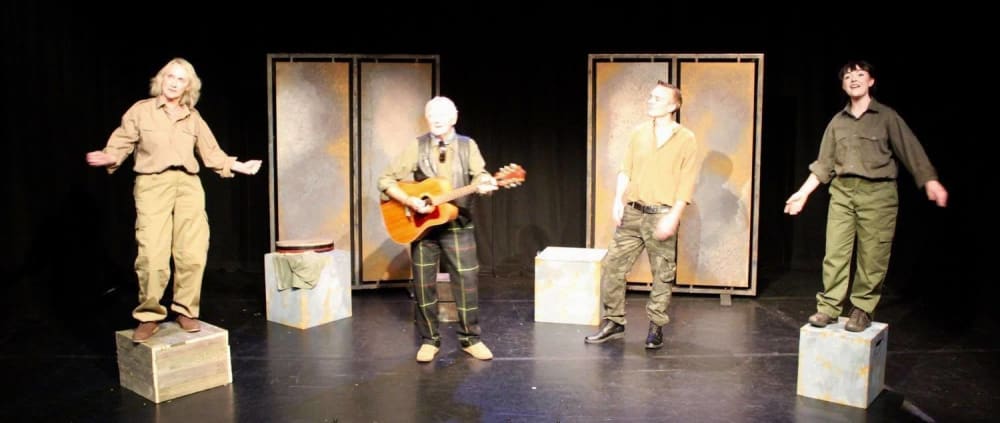 Hamish Henderson was a major figure in the Scottish folk revival movement, bringing traditional Scottish arts into the modern world through his own experiences of travel, war and through his strong political affiliations to the working class struggle. Often referred to as the most important Scottish poet since Robert Burns, he was also a songwriter and a left-wing intellectual.
This celebration of his life and writing is a beautifully animated reading of his works as he passes along the 'radical road' of his life. A strong ensemble cast of four multi-talented performers take us through an early life in rural and industrialized Scotland, to awakening in the desert war, through commaraderie and the liberation of Sicily and back to his homeland.
Henderson put his empathy, humour and compassion into everything, his natural distaste for a system that could sacrifice so many innocents on both sides of the war, satirical quips on contemporary politics, a walk home through the fields on a moonlight night.
This is an aptly modest but dynamic performance that allows Henderson to speak for himself. The voice work is superb, the four actors deliver his texts with all the warmth and commitment of the man himself, the strong sense of solidarity, rousing the audience with songs, wicked fun, a great zest for life.
Reviewer: Jackie Fletcher