Hamlet
William Shakespeare, adapted by Peter Schaufuss
Ashton Hall Saint Stephens
–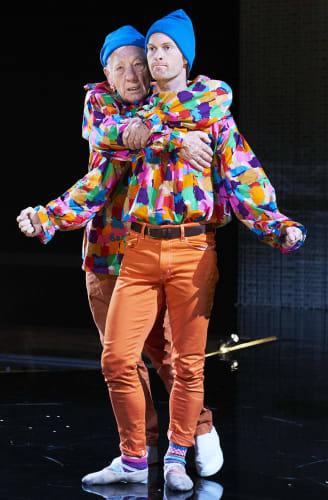 You could spend a pleasant evening with the Dance Hamlet at St. Stephens in Edinburgh. Dancers convey the basic storyline, a pounding soundscape reminiscent of Hollywood movies urges our attention and it only lasts sixty-five minutes.
There's also Ian McKellen sampling seven speeches from Shakespeare's Hamlet, including the final lines of the play in which he says to his dead self, "good-night, sweet prince; and flights of angels sing thee to thy rest." There is no spoken dialogue. Almost every word we hear is by Ian McKellen, though Gertrude (Caroline Rees) does utter the words "help, help."
There are also at the start of the show the repeated offstage amplified words of "who's there" that terrify an on-stage character who presses his hands against his ears. I wondered if they were suggesting a theme of paranoia but the idea is never pursued.
Ian McKellen's speeches are very consistent. They are always spoken with a weary seriousness as if we are sitting with him in an ancient library late at night. The intense energy of the rebel prince is left to Johan Christensen as a young, blond-haired Hamlet ready to dance in any direction.
The performance is pleasant, short and gentle enough not to worry small children. But it is generally too cautious. The texture of the dance is mostly basic display material that gives a visual summary of what is going on.
Individual characters adopt a pose and maintain it to the end. Ophelia (Katie Rose) dressed in white is a romantic free spirit delicately extending her limbs till she rolls off the stage dead. Claudius (Chauncey Parsons) sneers as he takes the crown from the dead body of Hamlet's father, his dance movements subsequently replicating that sneer.
There is no dialogue, no complexity. The words spoken by Ian McKellen are dropped in like sweets but add nothing to the story.
This is a production that is going nowhere special but is happy to entertain an audience for a while before they sleep.
Reviewer: Keith Mckenna